Each year, Google makes hundreds of changes in its algorithms but a majority of these are minor changes. However, it occasionally rolls out major updates that leads to ranking fluctuations (like Panda and Penguin); these significant changes can affect digital marketing efforts. One such noteworthy change was brought in when voice search queries were introduced on the search engine. Voice search is an emerging trend adopted by the most popular search engines like Google, Bing, and Yahoo!, to name a few.
Growth Impact of Voice-Enabled Technologies
The popularity of smart-devices (Amazon Echo, Google Home, etc) and the arrival of digital personal assistants (Siri, Google Assistant, Alexa, etc.) has contributed to the increasing importance of voice search queries. For instance, ask the Google Assistant "Ok Google! Find vegetarian restaurants near me", and she immediately conducts a search and gives you the top results on the SERP (Search Engine Results Page). It's this technological integration that makes optimizing your SEO for voice queries so important!
People have taken an instant liking to these Voice-Enabled Technologies because it's like having a two-way conversation. They help us complete our tasks in real-time. For instance, the Google Assistant can help you find petrol stations on your driving route, book an Uber, or make a phone call. The same principle goes with voice queries, it's are popular because of the ease in user experience that it offers. Which is why people have started preferring it over typing.
Google first launched speech recognition technology in 2002. Since then there has been a lot of advancements in artificial intelligence and machine learning, which has led to major changes in voice search as well. Here are some major growth impacts of voice search on the future of SEO:
In 2017, according to Mary Meeker's annual Internet Trends Report, Google Assistant reformed its correctness rate of up to 95% and error rate of 4.9% of understanding of the English language also, Mr Sundar Pichai notifies that this "error rates continue to improve even in noisy environments."
In 2018, at Google, I/O Sundar Pichai demonstrated that the Google Assistant is also capable of understanding the nuances of a conversation. Google assistant even catch a super casual "mmmm" in the conversation.
The technology is constantly being upgraded to complete definite tasks, like scheduling a haircut appointment, for instance. To help you with such specific tasks, the digital assistant attempts to strike a conversation making the experience seem more natural.
In 2018, Dave Limp revealed that Amazon has sold more than 100 million smart speakers and Alexa-enabled devices like the Echo Dot, Echo Spot, and Echo Show. The number of Google Home devices in use currently exceeds 50 million. Voice is now mainstream — it's built into our everyday home appliances like televisions and refrigerators, serving as the virtual concierge in hotels, and helping university students navigate their class schedules.
In 2017, a survey conducted by Voice Lab proved that there are a total of 33million voice-first devices in circulation.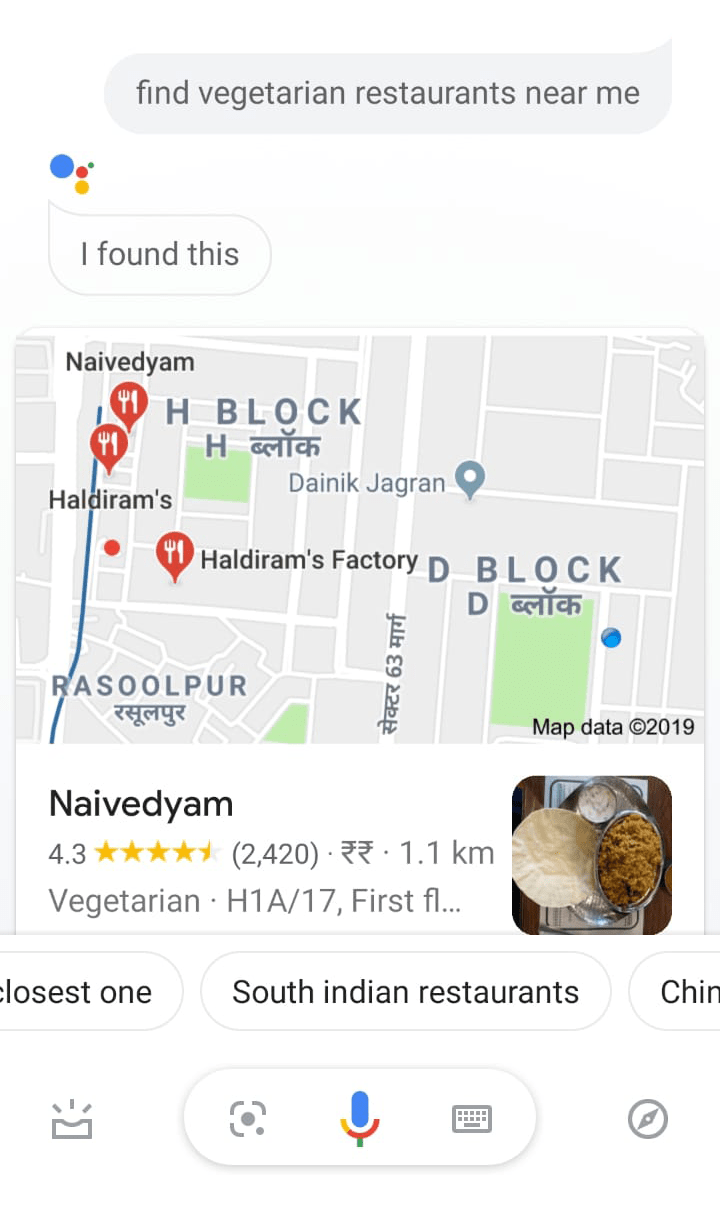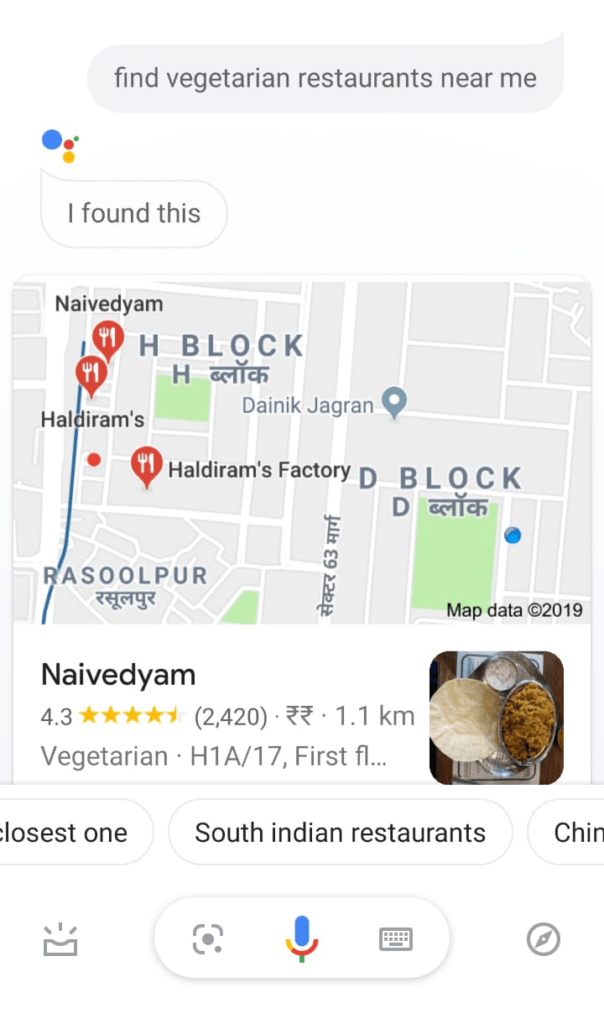 These kinds of significant milestones initiated the speedy adoption of voice-activated technology into search engines. The important question that arises here is…
Why there is a need for voice search optimization in your website?
Search engines are now integrated with voice search, which allows you to search through voice instead of text.To prove how important it's to optimize voice search queries for your business, here are a few statistics:
A survey conducted by Alameda Internet Marketing revealed that in the near future voice search will compete with text search. And, went on to predict that in the distant future it will be all around us.
Former CEO of Google Mr. Sundar Pichai revealed that 20% of the queries on Google are spoken queries.
In 2016, Mary Meeker told a crowd of tech executives at code conference that, there have been spectacular advancements in user experience, by the year 2020, half of all online searches and image-based searches will be made through voice search.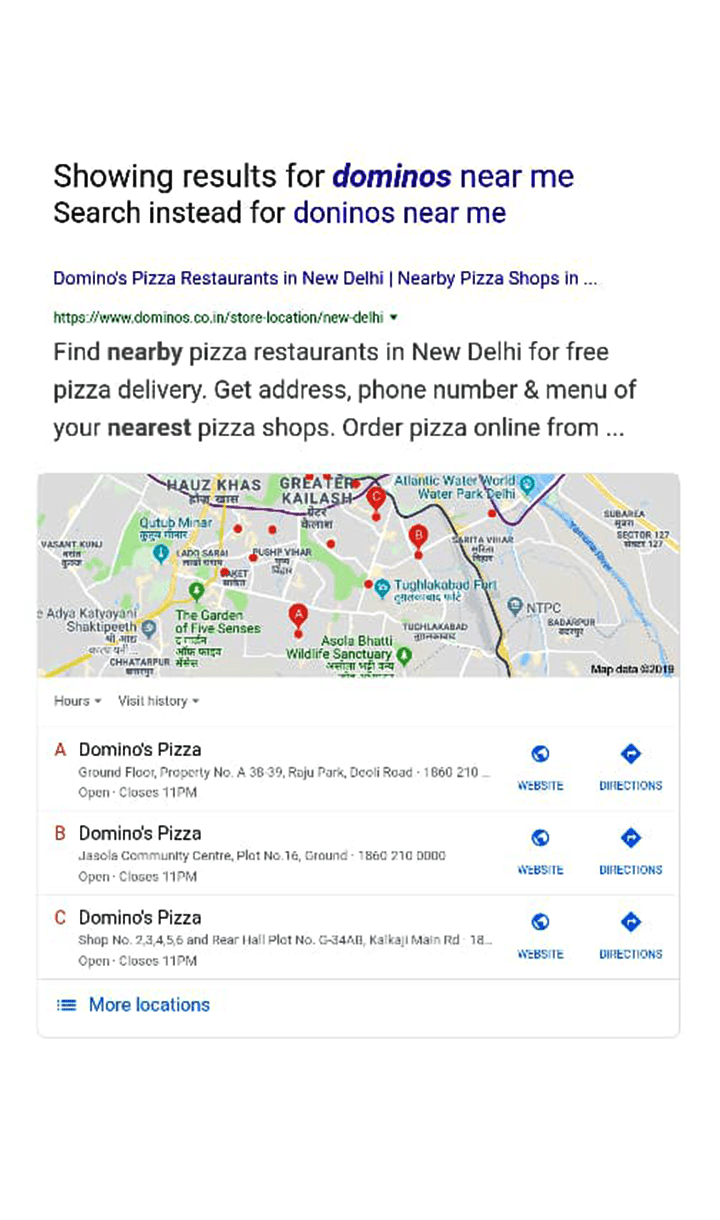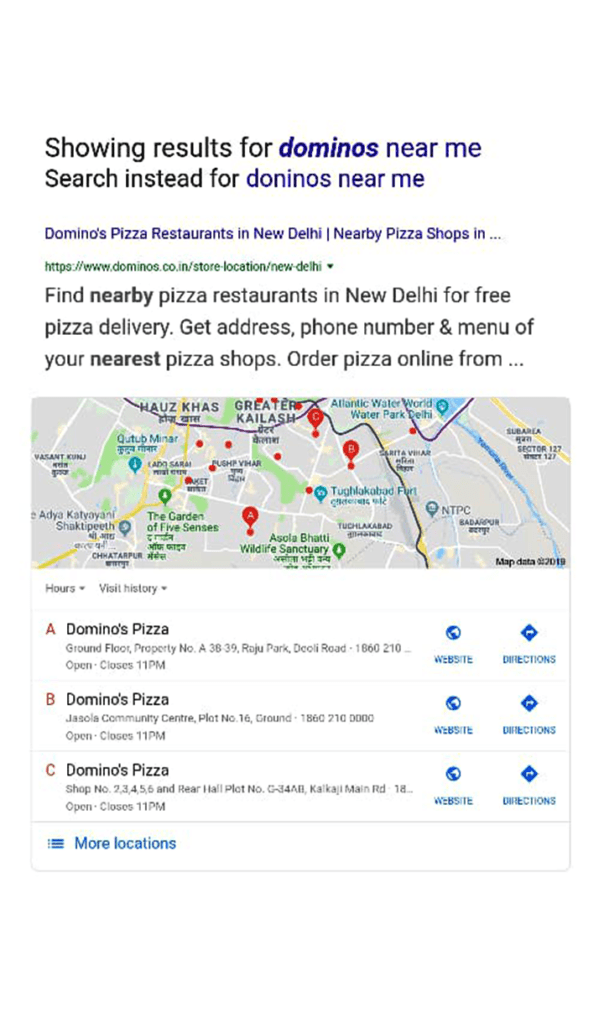 The rapid increase in the number of users of voice-technology clearly shows why VSO (Voice Search Optimization) is critical for companies that want to establish and maintain a meaningful online presence. Here are a few important strategies to focus on to optimize your voice devices.
6 Important Tips to Optimize SEO for Voice Search
1. Your content should rank high to get optimized
It's very important to rank your content on the first page of search results because most often AIs tend to crawl and pick results from the top three search results. To rank on top you need solid content. Therefore, as a part of your SEO strategy, content and links are the key points to keep in mind. Without quality content, you won't get links, without link building you won't crack the first page, and without ranking on the first-page voice search algorithm won't matter at all.
2. Your data should appear in the featured snippet
It is proven that 4 out of 10 voice search results come directly from a Featured Snippet. So, your focus should be on creating featured snippet answers out of your content. But there are no exact answers to the voice search queries. It relies on Natural Language Processing to apprehend voice texture, interests, and behavior. So, there are some recommendations to keep in mind when writing your content. Answer precise questions, that means, questions that are common to your subject and relatable to the public. Answer your question in a short and crisp manner, you don't have to use any tough words that are difficult for the normal public to understand.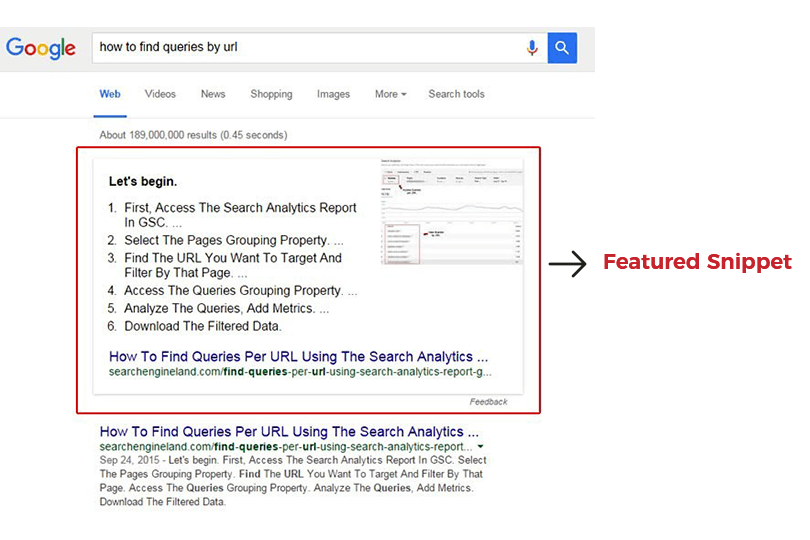 Example of Featured Snippet
3. Your local SEO should be faultless
Optimizing your local SEO is one of the crucial factors. According to Activate tech (notified via The Wall Street Journal), users of voice search who are looking for business information are upto 39%. That's why your 'my business' page of Google should be completely up to date filled with the complete address, correct contact details and business hours.
For example, if you are a baker and someone is searching for "cake shops near me" then you want your content to be on top of the SERP. Make sure you don't provide any misinformation because then you would just lose the trust of your customers and could also hamer your company's reputation. The other ways to optimize your local search is by building your online reviews and using structured data markup.
4. Embed Long-tail Keywords when searching via voice
With the usage of more voice-enabled devices, people search their query as if they are talking to humans in comparison of a particular keyword. Essentially, these will be the long-tail keywords that are more conversational in nature. For example, Best cafes for a blueberry muffin near me. Needless to say, Google considers long-tail keywords to find results of related queries over text-based searches. Therefore, answering intent-based queries will help local businesses and brands to grow. Long-tail keywords face less competition increasing the chances of ranking well on the SERP.
5. Your site should be mobile-friendly
Voice search is most popular for mobile. So, that's why your website should be mobile-friendly if not, it will simply increase your bounce rate which will harm your rankings to come on top of search engine result page (SERP). And once your ranking gets affected it becomes difficult for you to survive on the first page. According to Adviso website, if a page is taking longer time to load then it likely to experience bounce backs more than 90%.
6. Using structured data
Writing exclusively for your audience is a new trend that Google follows. Earlier, to make your page rank on #1 on SERP, people used to fill their page with trending keywords but now Google uses other factors to find perfect page relevancy. So, the main tip is to write only for your audience and leave the rest to Google. But a content writer has to play both the roles of a writer and an SEO executive.
So how can you optimize your content further? One of the important techniques is microdata. It is not exactly to rank your page on the SERP but it will help you indirectly. Microdata mainly exists for the search engine it is shown in the HTML code, one can only see if they click the inspect button. Here is the example of microdata.
Microdata helps search engines to organize and classify your content, basically, it tells you the most important data of your content. It's an underutilized strategy because it requires work. But the use of microdata is possible by using Schema Markup.
Schema Markup is also known as structured data. It is one of the most complete microdata vocabularies and it's supported by all the search engines. Schema can also be used for search enhancements and to get visual treat results on SERP.
The picture below is a good example – you can see that the star rating, calorie count and time of preparation have been mentioned to add more information.
When people often search via voice, they tend to search operational hours, contact information, address, directions from highways, etc, that's when microdata will classify that information.
Conclusion
The possibilities of speech technology are endless in the near future. Research shows that each month there are more than 1 billion voice searches occurring, day after day, it's becoming more popular and people have started using this tool regularly to find new products and services. So, that's why businesses can't overlook this evolution of their SEO strategies. Investing your time and efforts in voice search optimization is proven to improve brand awareness, online buying, and revenue. The ever-growing prominence of voice search is already changing the way people approach SEO. Its popularity and professional use are on the rise. So, it becomes very crucial to have a solid voice optimized SEO strategy for increasing your website traffic and beating the competition in the market.