Experts Global today stands well-celebrated in the education sector, shouldering various corporate social responsibilities as well. The educational organization started this journey offline, but today boasts of its acclaimed global recognition and a revered standing among international students, institutions, and the faculty. Considering the magnitude of the project to launch online, it was divided into four broad modules that include faculty and counselors' management, admin dashboard, tracking students' performance metrics, and most importantly the content management. Unyscape amalgamated the best of PHP framework, Android, WordPress content management strategies, MySQL, Android, and iOS swift, and an embedded simulation environment to make online Experts' Global, the way it looks today.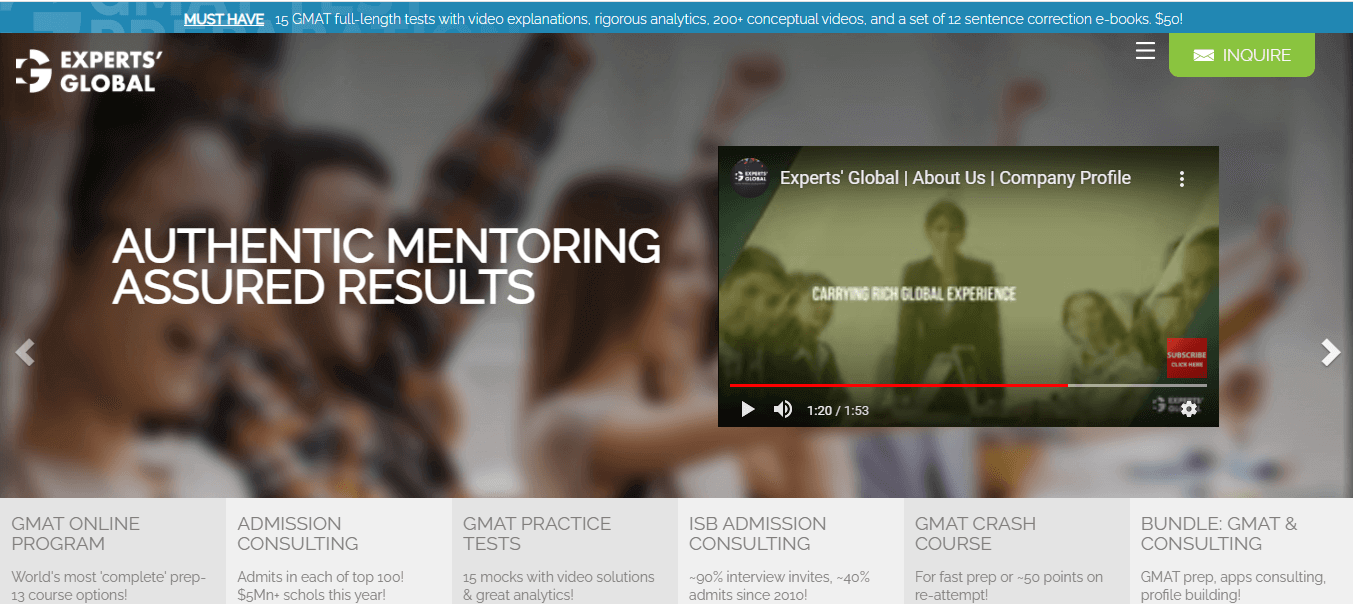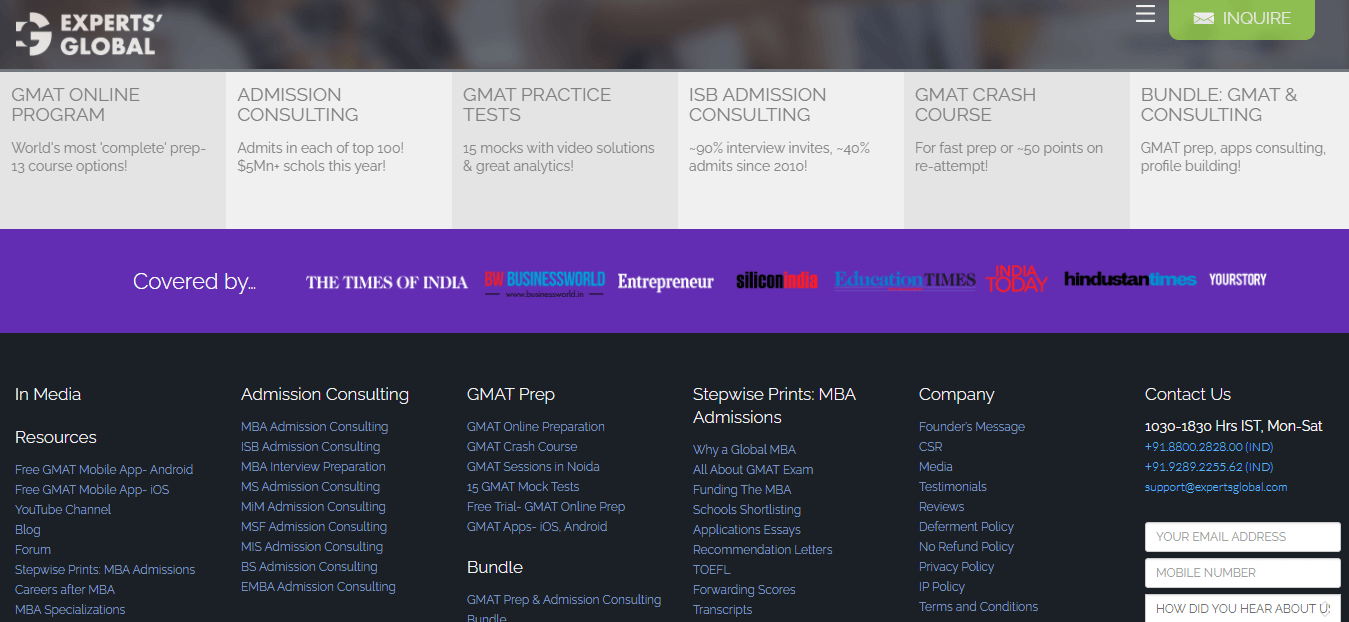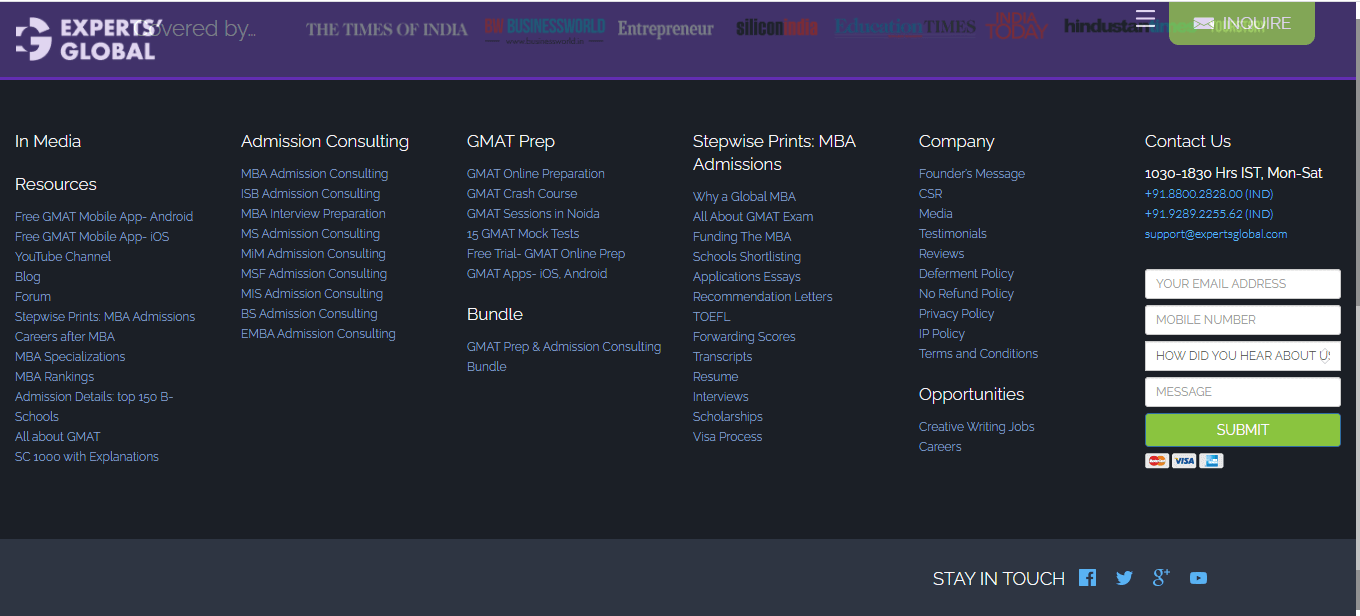 Experts' Global is an eminent player in the education field, dedicated to enlightening and guiding students from all over the world. It provides handheld-yet-interactive and exhaustive-yet-gripping online trainings in the form of crash courses or various modules. With their ace counseling, simulated teaching strategies, boutique and end-to-end consulting, and guidance about admission and visa, EG enriches academic experiences for students who wish to pursue all kinds of master-degrees from the august institutes worldwide via the GMAT route.
Since the inception of ExpertsGlobal in 2008, their core ideology has swiveled around its three pillars of Intellect, Inspiration, and Innovation. EG thus takes pride in sharing that they have students admitted to 150+ esteemed B-Schools and have catered to students of 40+ ethnicities. Not just this, Experts' global finds extreme gratification in furthering a noble cause of adopting children and thus contribute a part of their revenue as a CSR.
The first business goal to match with Expert's Global ideology was to have an in-depth analysis of their business.
To get the client a digital face, and an adjunct app to render full support to their web portal.
A web portal that takes the load of a huge volume of users and visitors.
An app that again supports a huge influx of visitors.
To chalk out marketing strategies.
Increase their digital reach and hence increase the clicks conversion.
Since Experts Global is an international player in the education domain, they had a colossal volume of content to deal with, which emerged as the supreme challenge for Unyscape developers.
Managing such a huge amount of content without losing its integrity and accuracy.
To allow the platform to behold simulation strategies to teach students.
Pre-existing mega educational players in the market.
To ideate and convey the exact message of Expert's Global via digital marketing.
To apply business intelligence, data intelligence, and analytical strategies to study students' and universities' data.
A highly responsive, scalable, and multi cross-platform compatible website with instinctual UI for students.
Huge content management system integrated
Payment gateway integration, Students management portal, admin management.
Conduction of Online tests.
Functionality of downloadable content available.
Lighting speed streaming of online video lectures.
Instant inquiries and follow-ups.
Unsycape's foremost approach was to analyze the Expert's Global existing business model and quantify the business scope of going digital.
Then next, to have strategic planning to implement robust parallel-running modules that are also well-integrated with one another.
To embed BI and analytics into the system to track the progress of individual modules.
Design strategies and utilize tools that would help manage the gigantic volume of data and content.
To deploy digital marketing strategies like SEO, CRO, to expand the presence of the client.
Deploy pre-reporting analytics, students' performance metrics, and faculty management.
Client's benefits and Metrics
Immediate business benefits and Metrics
An inordinate increase in the inflow of visitors.
Clicks conversion increased.
Digital marketing directly impacted the global reach of the client.
Brand value enhanced.
Strategies got streamlined and their investment costs were reduced by huge percentages.
Reduced operational costs.
Quality content at the end is the king.
Always back up crucial content else you may end up losing a lot of crucial data in the process of content management and migration.
While deploying various parallel modules such as student's portal, faculty management, CMS, and establishing multimedia compatibility, great co-ordination among all, is extremely crucial.
As our relationship with the Experts' Global goes, it cannot be captured in a timeline. We share a strong development and a maintenance bond with them. But the project from its ideation to technical implementation was covered with agile methodology and was closed within the deadline.