Ever since electronic commerce trotted into the offline commerce space, it is increasingly contracting the business world into a smaller and smaller market. Alongside the focal point of e-commerce seems to shift from only a few parts of the world to other parts as well. E-outlet thus emerges as the very first e-commerce platform in the Middle East, blending traditional and some global trends. As E-outlet courageously ventured into e-commerce, it certainly needed robust e-commerce strategies, effective IT-solutions in cognizance with the futuristic software technologies.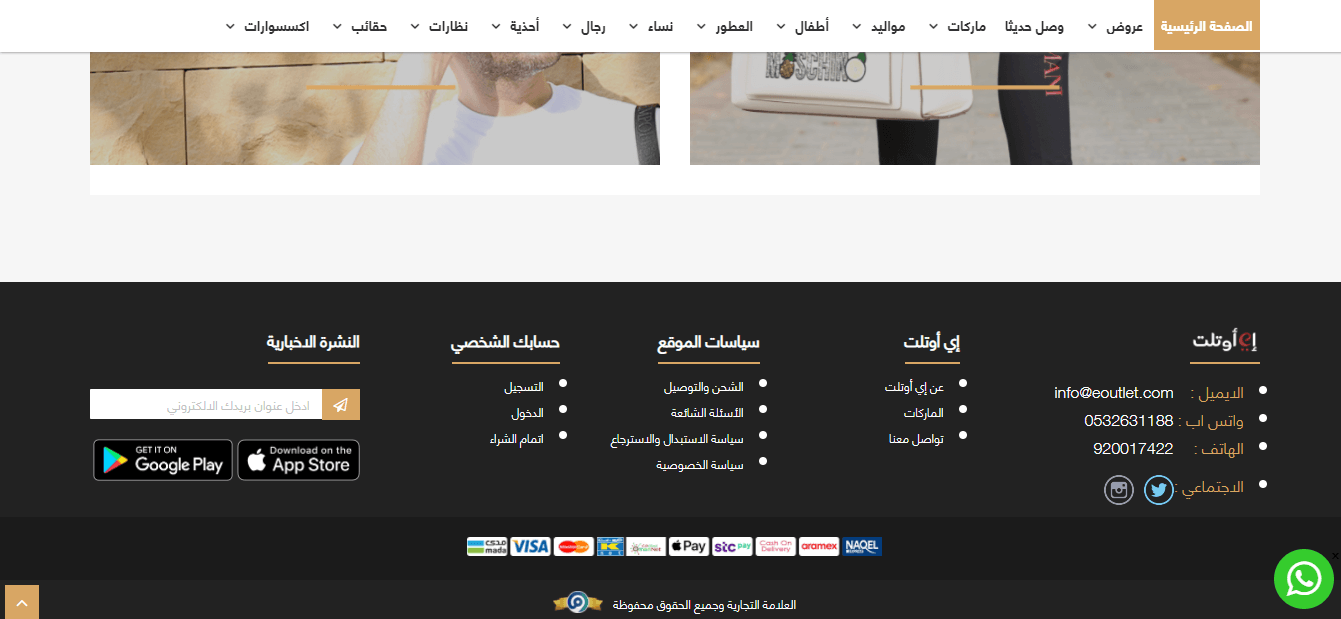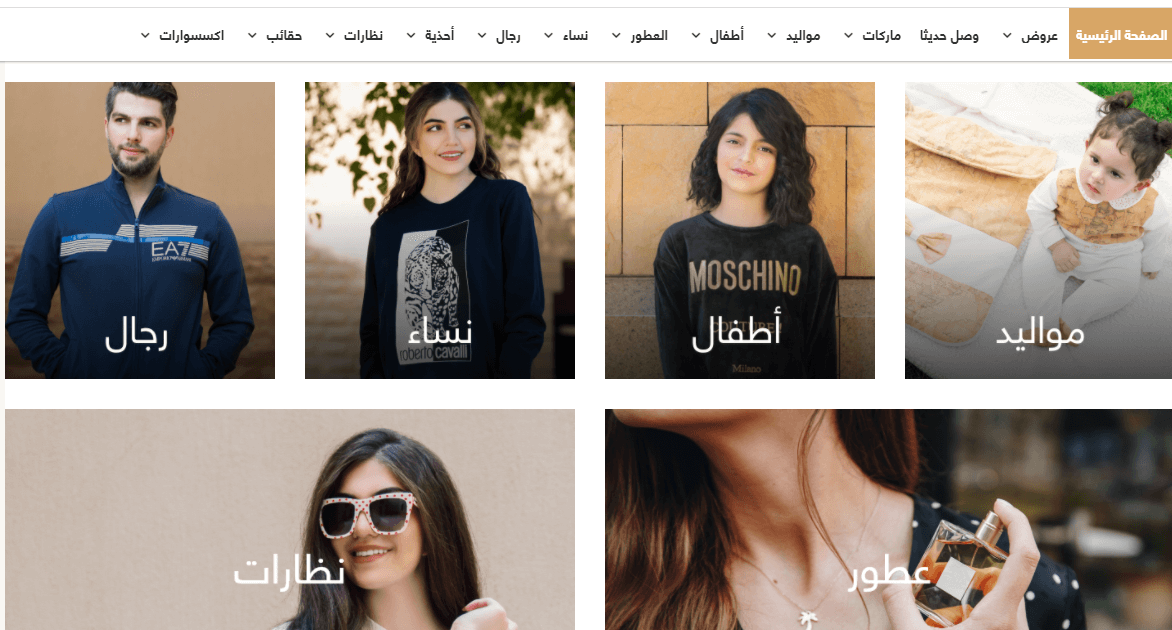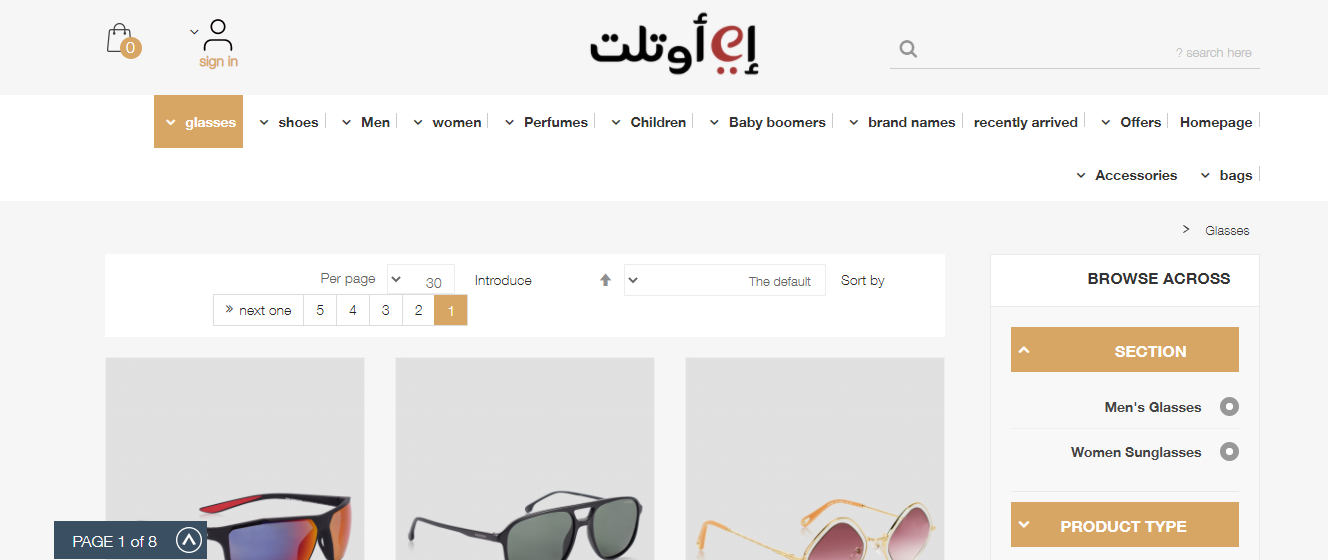 Indigenous to Saudi Arabia, the client is an established merchant with a huge range of products to trade offline and online. The client deals in thirty extremely voguish brands, with an array of over 5000 products like apparel, sunglasses, and shades. From perfumes for men and women to shoes for kids and adults, baby boomers, and a lot more. E-Outlet boasts the original collection of their products from brands like Armani, Lacoste, Fossil, Gucci, Hugo Boss, and Ray-Ban, etc., E-Outlet certifies that all of their products are original and imported from Europe. Without compromising on authenticity, quality, and trends, the client collaborates with an Italian expertise group to supervise and look after their business.
To establish E-Outlet amongst the ace brands in the Middle-east and eventually grow globally.
To design, develop, maintain, formalize and organize a browser-friendly, scalable, and responsive web
To adopt e-commerce and infrastructure strategies into their existing business model.
To convert the influx of visitors into sales as much as possible and reducing the CPAs as much as possible.
Getting the concept of the web-portal for the e-commerce right and having it implemented in the most optimized way.
One of the greatest challenges after establishing an e-commerce platform like that of E-Outlet is the conversion of clicks and reducing the CPAs as much as possible.
To make the website sturdy enough to endure a sudden surge in the number of visitors. In this case, the criticality of the issue was mitigated with Unyscape's solution of escalating the website to Magento2 and then balancing the scales.
Another challenge associated with the e-Outlet platform was to make it resilient and competition-ready for the middle-east market and the global market.
An e-commerce platform that supports Arabic Script as it is chiseled primarily for the Middle-East audience.
E-Outlet attracts customers with its extravagant and classy UI, superfluid navigation, mobile and browser responsiveness, and its swift performance.
The site comes equipped with a secured payment gateway, fetches product/order receipts, high security, search options, user registration, and sign-in, and also eases of use for its users (admins and customers).
Unyscape's solution was to cover the project multi-dimensionally, from using avant-garde technology to bring the web application to life to crafting business strategies that would directly affect the sales positively.
Unyscape also rendered its diligent services in building made-to-order APIs in Magento2.
Our team decided to carry out influencer marketing and reach the right kind of users and audience to hit sales.
Sending reminder notifications to the customers who abandoned the cart due to varied reasons, while shopping on E-Outlet.
Client's benefits and Metrics
Witnessing the growing influx on the website and not getting clicks converted into sales can be disheartening for any retailer. Thus our 360-degree strategy served as a pertinent solution for our client that helped transform their volume.
E-Outlet took a massive leap of nearly 55 orders per day, i.e. from about 25 orders to over 80 orders per day.
The client was also immediately benefitted through our influencer marketing that pitched 5000 simultaneous users successfully.
CPAs thus were marginally reduced and conversion clicks were increased significantly.
Digital and physical presence can go hand-in-hand.
Every customer is different.
Shopping carts' data reveal that every customer is different and sending reminder notifications customarily to the customers who abandon carts can transform clicks into sales.
Faith-building plays an integral part while clubbing e-commerce with offline commerce.
The project was nurtured and matured from creative conceptualization to coding down a website. It got completed within the deadline and the graph of the E-Outlet timeline with Unyscape has only increased and stabilized with time.