Today, one of the most common challenges faced by many marketers is to measure the impact and effectiveness of their marketing campaigns and provide relevant answers to the fundamental questions on – 'what's working and what's not? , To solve this issue UTM Parameters come into the picture.
Undoubtedly traffic is paramount to any website. It not only makes your business gain online visibility but at the same time also allows prospects across geographies to find your site.
However, to be able to stand out in this ever growing market and attract the right audience is an overwhelming task. As a marketing professional, it becomes a key aspect for them to track the performance of their marketing campaigns and drive maximum results and value out of it.
Although, Google Analytics is a great tool to dig information and key metrics such as – how many visitors came on your website, how many stayed, how many looked at each page and their navigation journey, their demographics etc. but these still give you a very basic information about your website.
One of the fantastic ways to get more accurate, precise and deeper information from each of your marketing campaigns and its overall impact is the use of UTM parameters.
What is UTM?
UTM, also known as Google's Urchin Tracking Module, is a simple code or tags which are added to the end of the URL to track key information such as a source, medium and the campaign name.
These simple code snippets do not affect the performance of the page in any way, but when a user clicks on the URL which has UTM parameters embedded in it, these tags are returned to your Google Analytics that enables you to analyze the referral traffic accurately.
Here's an example of a normal URL:
Here's an example of the same URL with UTM tag:
http://thisisyourwebsite.com/?utm_medium=email&utm_campaign=autumnsale&utm_source=newsletter&utm_content=banner+link&utm_term=segmentation
The highlighted section in the above URL is a UTM code embedded in it. It is important to understand that failure to append UTM codes will only hinder the effectiveness of your marketing campaigns leading to ambiguous and corrupt visitor data showing up in Google Analytics.
Urchin Tracking Module(UTM) is simply an extension added to a URL that gives detailed information about the links that are being clicked and where. UTM is the way of collecting detailed performance data of a URL. Put simply, UTM is the way of collecting detailed performance data of a URL. UTM Parameters may sound very technical but they let us track specific details about campaigns in Google Analytics and help in determining the exact origin of a link and even how that particular link performs. UTM data provides in-depth analysis and helps in streamlining the brand by revealing user behavior.
Benefits of using UTM:
UTM helps in tracking the value of social marketing programs and campaigns.
UTM provides precise data about where the traffic and conversions come from.
UTM allows us to test individual posts in the classic A/B testing style.
UTM allows us to track keywords bringing traffic/conversion for search ads.
What are UTM Parameters?
5 parameters are included in UTM code which are then added to the URL. Source, medium, campaign, content, and term. Let's consider an example:
Original URL: https://unyscape.com/digital-marketing-trends/
URL with UTM: https://unyscape.com/digital-marketing-trends?utm_source=facebook&utm_medium=fb_ad&utm_campaign=summer_sale&utm_term=social_media&utm_content=video_ad
1. Campaign Source
This parameter tracks the source that is driving the traffic. It can be the search engine, social network, newsletter, or any other.
Examples: google, facebook, twitter, newsletter etc.
UTM code: utm_source
Sample code: utm_source=facebook
2. Campaign Medium
This tracks the type of channel driving the traffic, like paid social, organic social, email, and so on.
Examples: organic_social, cpc
UTM code: utm_medium
Sample code: utm_medium=fb_ad
3. Campaign Name
Each campaign should be given a name so you can keep track of your efforts. For example, product name, a code to identify a specific sale or promotion, a contest name, or a tagline.
Examples: free_trial, summer_sale
UTM code: utm_campaign
Sample code: utm_campaign=summer_sale
4. Campaign Term
This can be used to track paid keywords or key phrases.
Examples: newyork_cupcakes, social_media
UTM code: utm_term
Sample code: utm_term=social_media
5. Campaign Content
This parameter allows to track different ads within a campaign.
Examples: video_ad, text_ad, green_banner, blue_banner
UTM code: utm_content
Sample code: utm_content=video_ad
How to add UTM Parameters to URLs?
UTM parameters can be added manually to URLs, but the Campaign URL Builder makes the process much easier. Just fill the form and click on "Copy URL", then use the tagged URL for all your digital materials.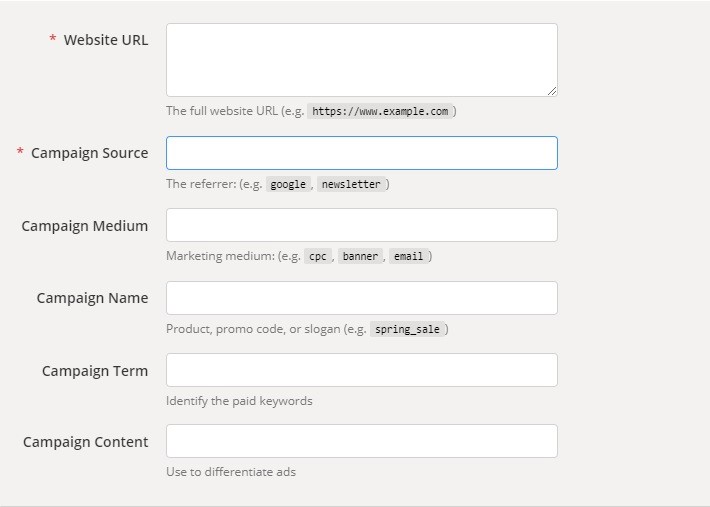 UTM parameters must be implemented before shortening the URLs (if required).
URL Shortening
URL shortening improves the appearance of the links and makes them more enticing to click. Moreover, URL shortening is important when you share extended and complex URLs (with UTM tags) on social platforms with limited space.
It is not very difficult to shorten the links for social media since there are many useful tools for it like:
1. Bitly
The links for Twitter or for any other social media platforms can be shortened for free without any sign up. You just have to copy and paste the link and you will get the shortened link in a few seconds. A few researches have suggested that shortened links can improve the click-through rate by 34%.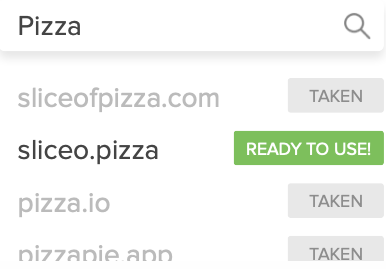 2. TinyURL
Another alternative is TinyURL and it is also very easy to use. Just like Bitly you don't need an account to use this tool. Just paste your original link in the box and get your shortened link.
Best Practices of UTM Parameter 
1. Create a Standard Naming Convention
Dashes should be used over underscores, percentage (representation for spaces inside GA), and plus signs in your URLs. Lowercase should be consistently used throughout all of your campaigns. 
For example,
utm_source=LinkedIn is different from utm_source=linkedin.
Changing to uppercase, camel case, or any other capitalization gives you an additional responsibility of remembering this convention. So, it's better to stick with lowercase and not let human error creep in.
URLs should be clean, descriptive, non-redundant and easy to read.
For example, the same values can be put in by mistake inside the source and medium parameters.

Or, by putting some specific originating aspect under the medium can confuse you with the double use of 'facebook.'
The best way is to let the UTMs flow like a normal sentence without any redundancy.
2. Keep a Record of UTM Links
Keeping a documented record of the tagged links will ensure that everyone on your team stays on the same page. 
In addition to this, create a naming convention guide document that has clear instructions for tagging links. This can come in handy, if anyone on the team comes across a new scenario.
3. Choose a right URL builder
Tagging URLs with UTM parameters can be messy and cumbersome, especially if done manually. Choosing a right URL builder can speed up the tag creation by simplifying workflows and at the same time saving your time and effort. Google Tag Manager is one such tool, which is easy to use and is free.
4. Be consistent in using parameter values
URL tags are case sensitive and it is imperative to be consistent with the cases and should be used religiously in the tags. UTM parameter values must be chosen carefully so that it can be distinguished from each other and leads to providing accurate results.
5. Get clarity on 'Medium' and 'Source' parameters
Most marketers interchangeably use 'Medium' and 'Source' parameters and often get confused. These are confusing but critical parameters and hence should be used carefully.
Let's understand how it is different
Medium: It defines how a visitor lands on to your website.
Source: It defines from where/which page the visitor came from to get to your website.
What's Next?
Number of clicks and traffic generated by various sources isn't the most important aspect of a business; it's the revenue.
So, once you know your way with UTMs, it's useful to connect your tracking data with the CRM. It will give a clear picture of how various online marketing channels are affecting your bottom line.
6. View Campaign Data
The campaign data can be viewed in Google Analytics via Acquisitions > Campaigns > All Campaigns. Click on Campaign Name corresponding to the utm_campaign parameter in your UTM-tagged URLs to see which links are generating traffic.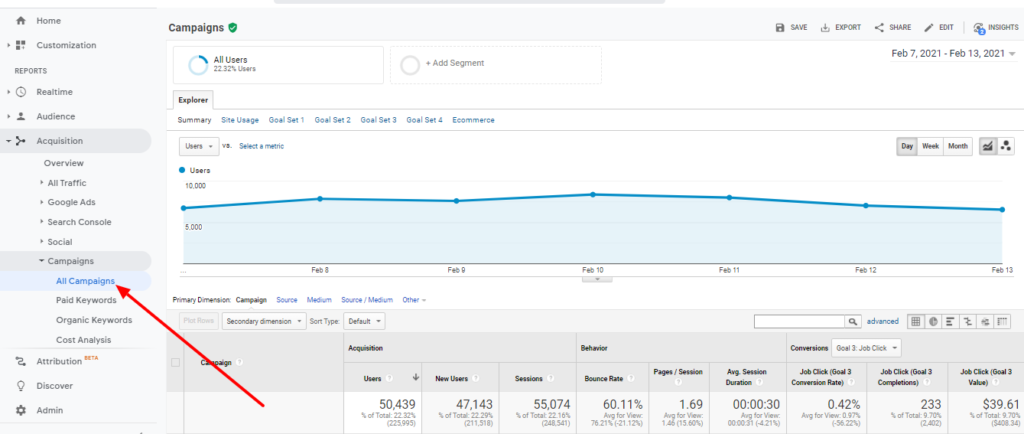 Ways to use UTM parameters for tracking conversions:
1. Promotions & Contests
Add UTM parameters to determine which of the marketing channels drove the highest number of entries. Here're a few examples-
Newsletter:
Facebook page:
Blog post:
2. Google My Business Campaigns
Google My Business can provide a huge amount of data to marketers.
The use of UTM parameters on your GMB pages can be essential for the local campaigns. This information can be compared to your direct channel performance and get a clearer look at what your GMB listing is doing organically.
Add GMB as the GMBlisting, or source, on the links from your Google My Business site.
3. Social Media Shares & Profiles
Add UTM parameters to the URLs shared and to the URLs listed in your profile.
This is useful for Instagram, which does not allow clickable URLs in the posts but does allow you to list one in your profile.
4. Banners
Let's say you have a blog post promoting a new product launch, and you want to link your header image to the product, and include a banner later on in the blog in which you have described the product a bit.
Deploy your UTM codes to both of these URLs to see which performs better.
The URLs will look something like this:
5. Ebooks
The utm_content tag can be adjusted to distinguish between contextual links or CTAs which can help in tracking how different URL placements in your ebooks perform by adding the UTM parameters. Here're some examples:
6. A/B Testing
You can test different placements using utm_content tag or whether your product launch announcement performs better via a social or email share using the utm_source tag.
The URLs for such a case might look like this:
7. QR Codes
If you use QR codes in your marketing, link those QR codes to a URL that is tagged with UTM parameters to determine which of the QR code placements works the best.
Let's consider an example if a restaurant places a QR code on the menu and in direct mail postcards to unlock a special discount for the person's next visit.
You can compare which of the placement performed better using UTM codes like this:
8. Printed Advertisements
Just because the URL is printed on paper, doesn't mean that you can't use UTM parameters. A short vanity domain like www.example.com/fun can be created, and then can be redirected to the URL with all of the UTM parameters attached.
Now, you may test different magazine placements to see which generate more interest among the target customers, or you may test different formats. Here're a few examples:
9. Mobile Apps
Mobile apps are another place to add in UTM parameters to your links. The conversion and traffic may lead you to reconsider different link placements within the app.
The UTM parameters can also be used to track which channels drive the most opens for the app.
Seasonality
You can track campaigns based on time of year using UTM parameters, either by tracking seasonal campaigns (especially around holidays, or sales events) or by including the date at some point in the UTM string parameter.
Influencer Marketing
It can be hard to measure the effect of influencers promoting a product or site. UTM parameters can make that simpler.
If you have an influencer, whether they be a blogger, a YouTube personality or, an Instagram model, to promote your product or website, UTM parameters can be used to determine their effectiveness and can compare different influencers against each other.
External Sites & Guest Blogging
Similarly, you can use UTM parameters to track legitimate guest blogging and linking with external sites. You can track links from sponsored content and organic content.
UTM parameters give new ways to SEO Pro's who sort and understand links all the time.
When Not to Use UTM Parameters
Internal links within your own website
You should absolutely avoid using UTM parameters to track the number of clicks for the internal links within your website. The reason is that by doing so, Google Analytics will restart the session for the same visitor and subsequently will count two separate sessions with new referrer information. Also, this will hamper the goal completion that you may have set up based on the original referring source or medium.
Tagging your Adwords URLs
Google recommends that users should use the auto-tagging option to link Google Analytics with Google AdWords. If such practice is followed, then it is certainly not required to use UTM tags for any of the AdWords URLs. With both the accounts linked together, you can easily view Google Analytics to track performances of each AdWords campaign.
Using both lowercase and uppercase in the same tag
UTM tags are case sensitive and when both lower case and upper case are used interchangeably, Google Analytics records both as separate records. A casual approach to this can make your campaign meaningless and vague. Google recommends that you should consistently use lowercase for your parameters.
Conclusion
UTM Parameters are versatile in implementation and they can be made as simple and as complicated depending on the things to be tracked or tested. They can provide valuable behavioral data and deep insights from the traffic which in turn can help you improve your performance.