Today, eCommerce businesses have taken the world by storm. With each passing day millions of sellers strive to make their mark online. For this, choosing an apt content management system (CMS) is integral. There are many powerful eCommerce CMSs that currently dominate the market, like Shopify, WooCommerce, Prestashop, Magento, etc. But, Magento is considered the most dynamic and robust platform to build or migrate an eCommerce business because of its advanced features.
Shipping and eCommerce
Shipping services and logistics are at the core of any eCommerce business, not only does it affect customer experience, it also has a significant impact on profitability. Several eCommerce business have difficulty managing the logistics and the additional overheads that comes with it, making worldwide shipping not as ideal. Either the logistics might not be conducive, or the products themselves cannot take long shipping times, perishables for instance.
Let's take an example of Amazon, you will be surprised to know that it does not deliver products heavier than 70 pounds to Alaska and Hawaii from the US mainland. Their international shipping policies are no different. They follow a hands-off approach while shipping any product from the US to another country.
Why Restrict Shipping?
Before going on to understand how to restrict shipping on Magento 2, let's quickly look at the most common situations where a business might want to restrict shipping.
Minimum Order of Cart
Providing shipping for small orders can be detrimental to your business profitability.
Nature of Product
The nature of goods can be perishable and shipping these products to long-distances can lead to losses.
Size & Weight
The shipping cost of bulky and heavy products like furniture, heavy machinery, etc. can be more than the cost of the product itself.
Infrastructure & Connectivity Issues
Lack of physical infrastructure or poor connectivity to extremely remote locations.
Scale & Size of Business
Businesses inability either due to its limited scale and size or lack of alliance with any strong logistics or transportation company.
International Trade Laws
Customization in shipping is not always required due to business limitations. It can be due to financial and legal purposes as well. International trade laws vary from one country to another and all eCommerce companies have to abide by them.
How to Restrict Shipping in Magento 2?
Magento marketplace, with advanced extensions, offers a lot of flexibility. However, even without added extensions, you will still be able to restrict shipping by region or country.
Restrict Shipping without Extensions
You can choose the regions and countries where you want to ship your products in a few simple steps.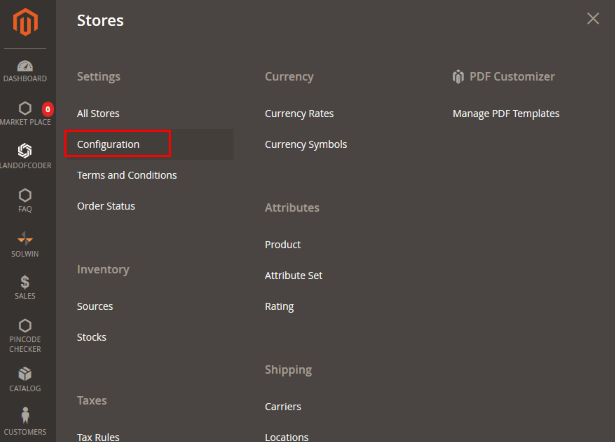 In the Magento Admin panel, you need to select the 'Configuration' option in the 'Stores' tab.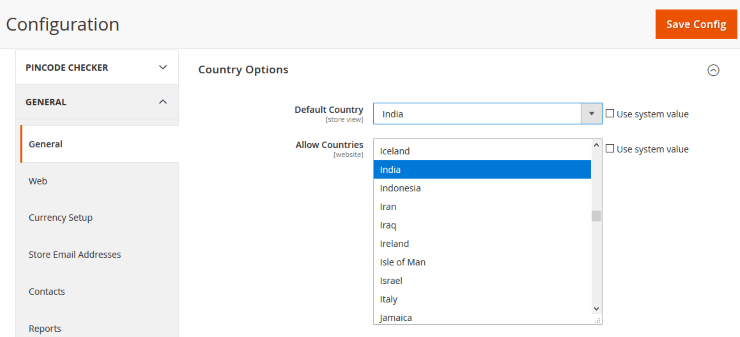 2. Choose the 'General' Tab and select the countries and regions you would like to ship to.
However, you need to go into advanced setting options in order to further customize your shipping options.
In order to choose shipping addresses more precisely, from the state or province-level to zip codes or postal codes, you need to login to the Admin Panel of the 'Extension' option.
Here you need to choose 'Add New Rule' under 'Manage Restriction Rules' in FME Extensions.
Finally, you will be able to add addresses here on the basis of postcodes, provinces, and states in the 'Condition' tab which is given at the bottom.
Advanced Restrictions through Extensions
Not only you can restrict shipping on the basis of location but you can add certain rules through which you will be able to restrict shipping on several other criteria. To add new rules to shipping options you need to select 'Add New' under the 'Manage Rule' option in Shipping Restriction.
One can add new rules that can restrict shipping on the basis of :
Cart attributes like amount, quantity and weight of orders.
2. Time and date of orders
3. Payment methods
4. Certain customer groups
With Magento's shipping restriction features, you will only be able to take orders from a selected group of customers as per your business needs.
Display Restrict Shipping Error Message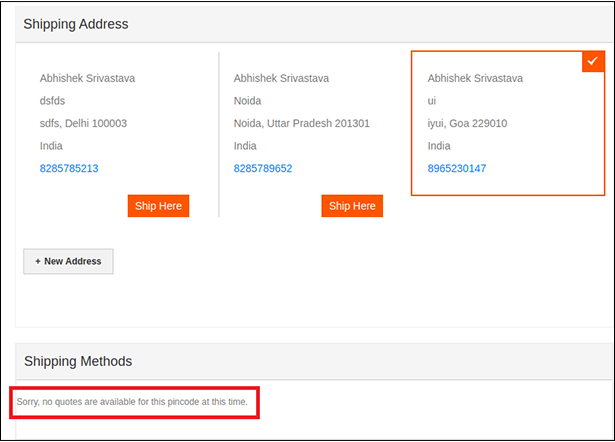 You will also be able to create or change restrict shipping messages in Magento 2 for your customers. Having a customized message for your customers that enhances their shopping experience on your website. You can show restricted shipping messages like
Sorry, we don't deliver to the mentioned destination.
Call on 1800-xxx-xxx for the product to be delivered to the mentioned destination.
We are in the process of adding new destinations to reach you.
Final Words
Magento 2 CMS is a sophisticated and reliable platform to build a new or migrate an existing eCommerce website. With its features like flexible and open architecture, frequent performance improvements through Magento extensions, customized user interface, etc. it will definitely win over the hearts of your customers.