Introduction
There's no doubt that spreadsheets are great for small databases and budgets. But when it comes to managing product information on a daily basis, especially if you are a manufacturer or a vendor, you know how terrible it is. It's pretty difficult to manage thousands of SKUs data accurately, efficiently, and cost-effectively across a bunch of sheets.
Additionally, try mapping information of those thousands of SKUs on a daily basis! At this point, you look for a solution that would make the task easier for you – without compromising with accuracy and of course without exceeding the cost.
There's one efficient and cost-effective solution for your data management and that is Product Information Management (commonly being referred to as PIM).
Let's dive in to learn more about Product Information Management!
So, What's PIM then?
To quote Wikipedia, "Product information management (PIM) means managing the information required to market and sell products through distribution channels."
To simplify the definition, a Product Information Management (PIM) solution offers a single place or platform to its user for effortlessly and accurately collecting, managing, and enriching the entire product information. It creates a product catalog, and distributes it to your sales and eCommerce channels; be it eCommerce platform, mobile application, print material or any points of sale.
Basically, a Product Information Management is software with a set of processes and advanced tools that are designed to centralize and manage an e-commerce business' product information (SKUs, descriptions, specs, prices, images, etc.) to ensure a single, accurate and simple view of product data.
As your eCommerce business develops and your product/ service offering magnifies, your product information grows significantly, which makes it very difficult to manage everything accurately across excel sheets.
Adopting a Product Information Management solution makes soaring more manageable by letting you organize, import, update, manage, and share this increasing information effectively and accurately. Not to forget, it will save you countless data entry and management hours, and significantly reduces the human error factor that comes with the manual spreadsheets updating.
A PIM supports multiple languages, currencies, and information on modified products for different geographical locations that makes the expansion of any business quite easy.
What Kind of a Data Does PIM Store?
PIMs are generally used to store information and media content associated with a product and organize the input information on the basis of product – or by each specific SKU (Stock Keeping Unit). The range of information can vary to a large extent but a typical PIM can include the following types of data :
Usage Data

– Product and service descriptions, how-to and where the products are used.

Media Files

– digital assets of products such as images and videos.

Technical Data

– Catalog information such as product specifications, dimensions, weight, lists of ingredients, UPC numbers, Relationships with other products, Shipping requirements, etc.

Emotional Data

– Customer experiences, product stories, and product marketing material with rich description.
What are the Capabilities of PIM?
PIMs provide users with powerful tools and workflows to manage, organize, optimize, and distribute product information more effectively and more efficiently. Here are some processes commonly managed by a PIM system.
Collect, organize, and view all your product information and content from various sources and departments in a single central repository

Edit, modify and refine product descriptions, images, and other related content

Manage entire product information and content distribution across multiple sales and distribution channels including mobile, online, and in-store point of sale platforms

Monitor sales and content analytics to help users assess product content performance and modify the product content accordingly

Track different shipping requirements and limitations for each of the product in the catalog
Ideal Use Cases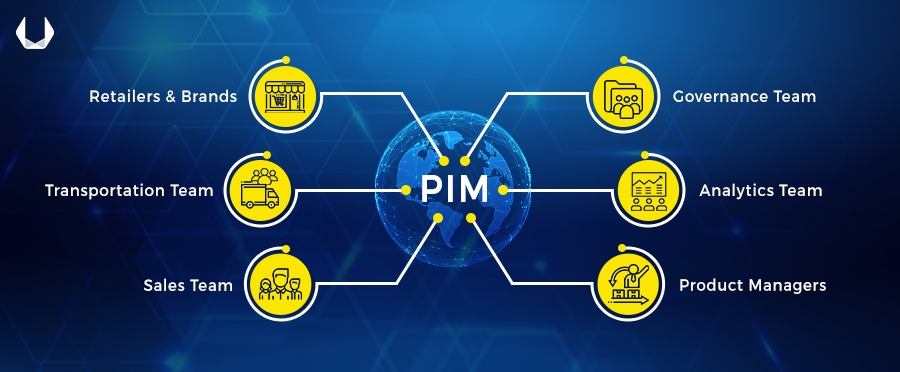 As with any software solution, Product Information Management has been designed for users with product catalogs; usually including a range of vendors, manufacturers, and retailers. A typical PIM solution is best suited to businesses of the following categories:
You have significant product catalogs and portfolios and want to make it easier for your team to access product-related information in a single place – central to all. Businesses that need consistent and quality information about their products all the time. You want to reduce the amount of time it takes to get your range of products to the market (or point of sale).

A business that has a lot of suppliers and distributors. PIM makes onboarding of these stakeholders convenient and hassle-free.

Businesses that want to deliver superior customer service and great product experience, need to provide data to customers that shows their product credibility in the market.
Who Needs PIM?
Data Governance Team

– It is highly useful for the compliance team,

who wants to track and meet the compliance-related needs of the products. For example, there could be compliance from the government regulator.

Analytics and Data Science Team

– The information received from the Product Information Management (PIM) software can be resourceful for the analytics team.

Marketers and Product Managers

–

The success of any product that is launched is on the marketers and product managers. They always strive to deliver a consistent and superior product experience with omni-channel strategy.

Retailers and Brands

– Brands and retailers always look forward to

strengthening their relationships with their suppliers.

E-Commerce Managers

– Managers of e-commerce companies understand the impact of quality product information on overall online sales.

Transportation and Logistics Team

– In order to reduce the amount of time it takes to get your range of products to the market (or point of sale) and to curb warehousing costs.

Sales and Distribution Team

– Let us take an example of FMCG company having a range of consumer products. PIM provides the most reliable and consistent information all the time which sales personnel can pass on to their distributors.
Top Product Information Management Software of 2019
Like all businesses are not created equal, similarly, all PIMs are not created equal. There is some good range of PIMs, and some great range of PIMs available in the market. According to G2 Crowd, below are the top 8 Product Information Management solutions:
Salsify Product Experience Management Platform

: Salsify combines the power of PIM and DAM capabilities. Brands like Coca-Cola, GSK, and Bosch use Salsify.

Akeneo

: Akeneo is a fast growing software company that offers an open source Product Information Management solution that dramatically simplifies catalog management processes. Akeneo quickly collects, enriches and spreads the data in the entire organization.

Catsy PIM

: Catsy simplifies the process around creation, management, and syndication of product content – while helping users centralize their product content.

Edgenet

: Edgenet provides a Product Experience Management platform to organize, distribute, and analyze all your product content — all in one place

Plytix

: Plytix offers fairly-priced, product information management (PIM) platform, based on utilizing product data for e-commerce success. It is the best platform for the companies that follow omni-channel strategy.

inRiver PIM

: They offer product information management (PIM) products and services that help create, update, refresh, maintain and distribute content about products globally

Propel

: Propel offer the integrated Product Lifecycle Management (PLM), Quality Management Systems (QMS) and Product Information Management (PIM) solutions

Pimcore

: Pimcore is a leading enterprise that provides PIM solution without any cost, centralizing all your product data and delivery across all channels. It is perfect for start-ups that have tight budgets.
If you are looking for a PIM solution, then make sure to choose the right one. Before finalizing, consider the speed to innovate and how it adapts the increasing demands of your business.
How Does PIM Support Business Revenue?
For any business, it's crucial to manage product-related information accurately and efficiently. Out-of-date information might negatively impact the customer experience; eventually crashing sales. A PIM solution can ensure that data sheets, web sites, mobile apps, CRM systems, any point of sale, and so on all have accurate and updated information about the product. A perfect PIM solution also minimizes delays on downstream processes and helps in processing information faster – thus saving you a significant amount of time and effort.
A PIM can help you have control over product information. Contact our eCommerce experts to strengthen the digital footprint of your business.