Close on heels of the news of Twilio Inc. buying Customer data company Segment Inc for $3.2 billion, comes the announcement from Google, of introducing updates to its Analytics, that will help companies understand their consumers better. In fact, understanding customers and listening to them, have increasingly been the theme of the times, what with the home-sharing giant, Airbnb's chief executive officer officially crediting "listening to customers" as one of the factors that pulled the company back from a near-death experience, not so long ago.
Anticipate Customer Behavior & Churn Probability
If it works as it is designed to, the Google Analytics update will be of a lot of relevance to marketers at a time when businesses are moving online, new customer needs are emerging and marketing budgets are under tremendous pressure. Announcing the update, Vidhya Srinivasan, Vice President, Measurement, Analytics, and Buying Platforms, Google, wrote in a company blog post about how it would help anticipate "future actions your customers may take", including ascertaining the probability of churn.
"By applying Google's advanced machine learning models, the new Analytics can automatically alert you to significant trends in your data – like products seeing rising demand because of new customer needs. It even helps you anticipate future actions your customers may take. For example, it calculates churn probability so you can more efficiently invest in retaining customers at a time when marketing budgets are under pressure. We're continuing to add new predictive metrics, like the potential revenue you could earn from a particular group of customers. This allows you to create audiences to reach higher-value customers and run analyses to better understand why some customers are likely to spend more than others, so you can take action to improve your results."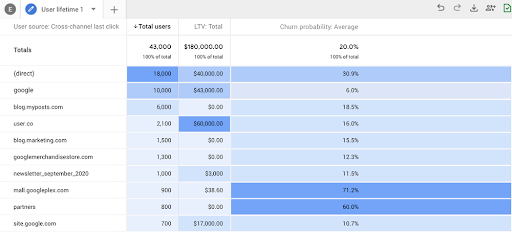 Better Customer-Centric Measurement
With the VUCA world becoming a reality more than ever before in these pandemic ravaged times and with people's needs changing rapidly, the update is also meant to assist marketers with making real-time decisions to win new customers. "You can see what channels are driving new customers in the user acquisition report, then use the engagement and retention reports to understand the actions these customers take, and whether they stick around, after converting", Srinivasan wrote. A better understanding of the customers across their entire lifecycle from acquisition to conversion and retention is one of the aspects that are likely to find a lot of interest in business owners.
What particularly seems promising is the update's ability to break down silos of information across multiple systems to offer a complete picture of the customer; something marketers would give an arm and a leg for. Built on the foundation of App+Web property, it is designed to give a cohesive understanding of the customer across devices and platforms.
"The new Analytics gives you customer-centric measurement, instead of measurement fragmented by device or by the platform. It uses multiple identity spaces, including marketer-provided User IDs and unique Google signals from users opted into ads personalization, to give you a more complete view of how your customers interact with your business. For example, you can see if customers first discover your business from an ad on the web, then later install your app and make purchases there," adds Srinivasan.
The fact that it is designed to work well with Google and non-Google paid channels add to its efficacy as it helps you understand the "combined impact of all your marketing efforts."

Clearly, Google sees it as a tool to assist marketers grappling with "rising consumer expectations, regulatory developments, and changing technology standards for user privacy." Additionally, the fact that it is based on the bedrock of machine learning, predictive metrics and privacy-centric design also makes it the right step in an attempt to future-proof analytics.
Early reports from Google already mention clients such as Vistaprint and Domino's reaping advantages of the new analytics in drawing helpful consumer insights.
Here's to providing meaningful customer experiences and maximizing your marketing ROI!