The novelty of "self-destruct" or "auto-delete" messages won millennials over making Snapchat a social media platform like none other. The 'stories' feature, introduced two years after the app inception, gained popularity and helped the platform carve a niche for themselves among the mobile-obsessed teenagers and young adult audiences. In 2019, Snapchat proudly recorded over 210 million active Snapchat users on the platform. And now, brands can't help but experiment with the platform's offerings via Snapchat Marketing!
History and Evolution of Snapchat
The boom of Snapchat for brand engagement lies with the growth and evolution of the platform. Here is a quick look at the history and growth of Snap Inc, as we know it!
1. Auto-Delete Photo Messages
Conceptualised as Picaboo and launched in 2011, Snapchat was envisioned as an off-beat messaging app, which allowed its users to exchange photo messages. It created a new buzz around chatting through selfies. The photo messages weren't like regular messages, they automatically deleted themselves after 24-hours. 
In the year that followed, Snapchat launched 10-second video messages, and also witnessed a surge in users. Close to 50 million snaps were exchanged among users everyday (on an average), making the platform a true viral sensation!
2. "Stories" Became a Sensation
Today, the Stories feature is available on all social media platforms like Instagram and Facebook, and even Youtube and Whatsapp. But the credit for the idea ultimately goes to Snapchat. Started in 2013, Snapchat Stories created a storm, swiftly causing a spike in users and user activity. "Snapchatters" started exchanging and uploading Snaps that crossed a whopping 200 million a day. This cemented their position in the "Halls of Fame" of Social Media Apps.
3. Snapchat Ads
Over the next couple of years the "well-established" platform went through a lot of experiments and changes. The platform started gaining a steady inflow of funding, saw a surge in users and gained worldwide popularity. Leading the platform to begin thinking about app monetization! After that, Snapchat for business and Snapchat Ads were all but expected.
With time Snapchat Ads evolved to include options like Geo-filters, Lenses, On-demand Geo-filters, Geo-stickers, Context Cards & Snap Originals (and, the list is steadily getting longer). Giving brands a plethora of options to drive engagement and interact with their customers.

Understanding User Persona on Snapchat
Populated mainly by Millennials and Gen Zs users, over one-third of the platform's audience can't be found on Instagram and Facebook. In fact, the platform has more users than Twitter (yes, it's true!).
Categorized as "younger", a report from Murphy Research Study (2018) shows that Millennials and Gen Zs have a direct spending power of over $1 Trillion. Further, 65% of the users post a Snapchat story after their purchase and 45% mention a brand as a part of their story. So, a presence on Snapchat presents an opportunity and acts as a smart investment for brands targeting such demographics. 
Why and How Should Businesses Interact with Snapchat?
Understandably, brands are still confused as to how to interact with the platform and their very selective users – The dilemma arises while trying to justify creative communication that's inevitably going to disappear.
1. Ideal Content Strategy on Snapchat
To be extremely clear, the same marketing tact that applies to other social media platforms cannot be applied to Snapchat. For traditional brands having a hard time digesting social media in itself, temporary ads might sound strange. Content like behind-the-scenes footage and exclusive previews do wonders to build brand authenticity and also drive engagement. This is because Snapchat works on a different behaviour and psychology.  
Research suggests that Snapchat mimics day-to-day human behaviour closer than any other platform. It emulates daily behaviour. We might have multiple interactions with people on a daily basis, but none of these moments last. For example, when you head out for the day you may, by chance, run into your neighbour, you hastily wish each other and go your own way. That's it! The moment ends there. Such daily interactions, while meaningful, don't really qualify as permanent memories. Similarly, Snapchat works exactly like that. Unlike regular social media feed that is permanent, Snapchat replicates the way we lead our life. And, that's the reason people take to the platform! We highlighted the fact that over one-third of the platform's audience can't be found on Instagram and Facebook, this distinct user psychology is this is the reason for that.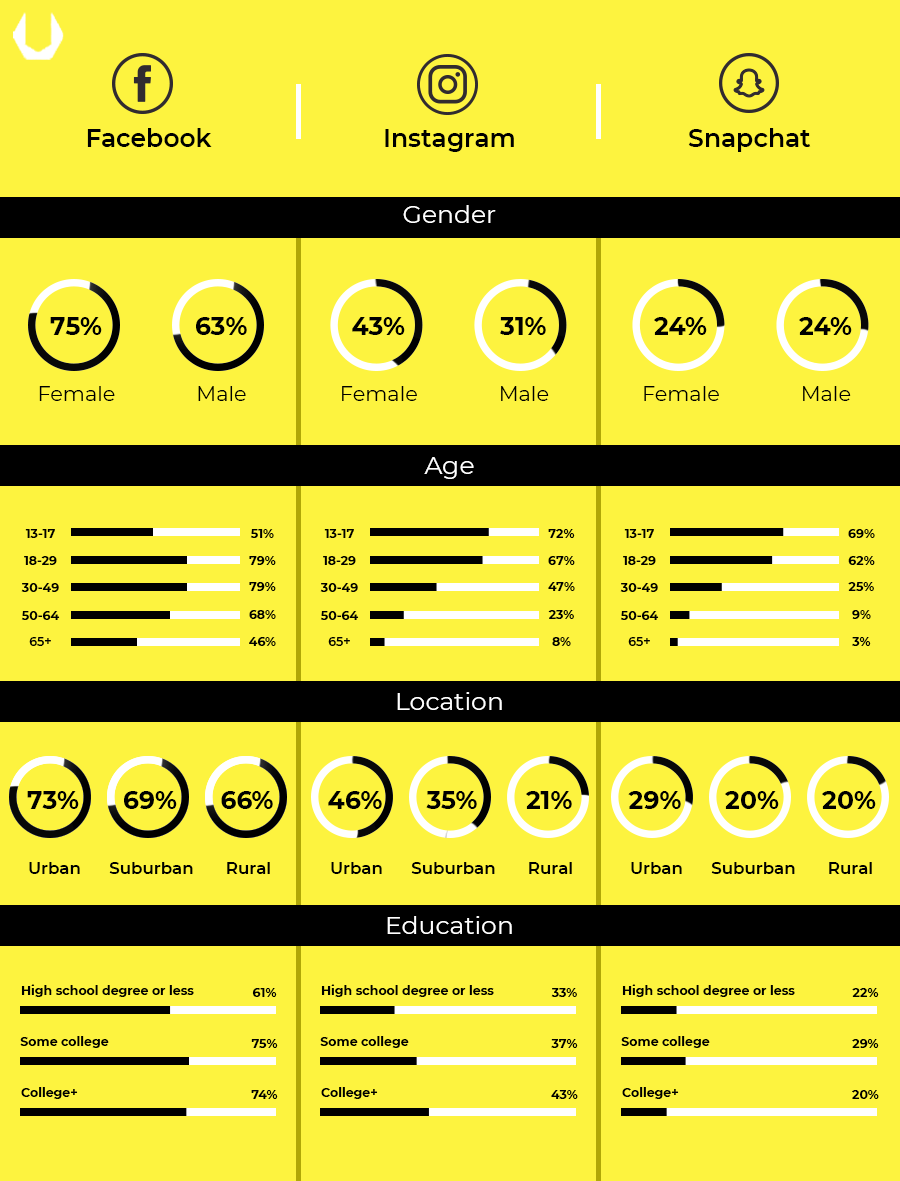 4 Benefits of a Brand Presence on Snapchat
The numbers speak from themselves, data by Hootsuite shows that 76% of Snapchat users are also regular online shoppers. In the true sense of things, there are four major benefits of having a brand presence on Snapchat.
1. Lack of Competition
Traditional social media platforms are overflowing with brands. In other words, the competition is stiff. Further, these platforms have changed their algorithm. Since they now favour a paid brand presence, it makes business visibility a tough nut to crack. On the contrary, standing out on Snapchat isn't as difficult, atleast, not yet!
2. Social that's Different
We already dallied with this concept in the introduction, but let's sum things up to say that the platform is different. Additionally, it offers businesses new pools of audience, a new way to interact with them and a new way to build brand content. From a content recycling perspective, both Facebook and Insta stories were modeled after this. Therefore, there is still scope to use similar types of content. Not that that's the route to take, but the option is still there.
3. Build Authenticity
Brand's are pushing multiple USPs at a time on social media, so whose bluff do we call? Remember we talked about how the same approach taken on other platforms cannot be used on Snapchat? This is because the users on Snapchat expect content that's "real" and feels authentic. By giving the users a sneak-peek to unedited or raw footage, brands can build authenticity, which is indeed hard to find these days.
4. Reaching a New Audience
If a brand's product could appeal to a young demographic, Snapchat can be the ideal place to connect with such audiences. For instance, CNN changed the perspective of Millenials by sharing news snippets through Snapchat stories. They were able to reach an audience and gain momentum in a way that was not possible on other platforms.
Should any Business avoid Snapchat Marketing?
If a brand's primary target audience is middle-aged and senior consumers, then Snapchat marketing might not be the way to go, simply because a younger audience will not relate to the product (or service). However, having said that, it would never hurt to try. The above example of CNN is a striking case of a brand experiment gone right.
A brand's demographics could always change and evolve. Businesses can experiment with content that could work in order to build brand awareness and goodwill, even if the product is not for everyone. Content that sparks emotion or one that shows the charitable side of businesses can be a great talking point to leverage.
Snapchat Marketing in India
Earlier in 2017, company CEO Evan Spiegel made it clear that they didn't want to expand into the "poorer" sections of the world, namely India, amongst others. Fast forward two years, 2019 saw the first Snapchat office in the country, with the brand expanding their team and capability for Snapchat marketing.
1. Growth Efforts in India
Firstly, the company is exploring vernacular language support & cultural customization to speed track growth. Secondly, they are collaborating with telecom, smartphone and content creation companies for better reach. For instance, they've managed several meaningful partnerships with Samsung, Jio Saavn, Red Chillies Entertainment, Gaana, and OnePlus to name a few. In fact, they ran a successful campaign with the Election Commission of India for the 2019 General Elections to spread awareness among young Indian voters about polling and voting. In other words, Snap India is steadily expanding its efforts to deepen their hold in India.
2. Steady Hold in the Indian Market
With heavy efforts in the first half of 2019, the platform saw a 40% surge in its Indian DAU (Daily Active Users). Leading to the fact that by the end of 2019, several brands like Swiggy, Nykaa, Coke, Pepsi, Adidas were using the platform to multiple their marketing efforts. All this goes to show the heavy focus Snapchat has on India, and brands in India should ideally be doing the same.
Snapchat Marketing: Getting Started
Now that we've built (and won) a convincing argument on why brands needs to be on Snapchat, let's look at exactly what this engagement could entail. In case you are still unsure about account setup, check out the Snapchat Support Page to get started. Moving on, let's look how businesses can be a part of the Snapchat Marketing wave.
Organic Engagement
Like any other social media platform, Snapchat allows brands to engage organically. This would mean creating an account and trying to increase followers to build engagement. This can be done by:
1. Compelling Stories: This doesn't mean sharing a few pictures or videos, but sharing content like latest trends, highlights, previews, etc., to keep the audience engaged.
2. Influencer Marketing and Partnerships: While not pure-play organic, partnering with social influences or other big brands is a good way for businesses to interact with their audiences and find a connection with them. The approach allows brands to be one with their audience, and thus the engagement follows automatically.
3. Respond and Communicate: Interaction with the audience is key, especially for a platform like Snapchat. Brands have fans and fans tend to reach out. Responding and giving a shoutout to those who try to contact you make you relevant, accessible and helps reach and retain customers.  
Paid Engagement
Snapchat offers a variety of services based on specific business goals. Right from app installs to web viewing or long-form commercials, there is a lot of room to experiment.
1. Snapchat Ads: Full-screen ads in the formats of pictures, gifs, videos, etc., which hover anywhere between 3 seconds to 3 minutes allows immediate action such as website visits or app installations.
2. Face and World Lenses: Face lenses (via front-facing camera) and world lenses (via back camera) allow for powerful AR experiences. These interactive experiences allow brand discovery and engagement.
3. Filter Ads and On-Demand Filters or Geo-filters: These are graphic overlay elements that can be added to user snaps. Brands either have the option of delivering filters directly to their target audience through the filter ads manager (where target audiences and budgets can be set). Alternatively, they can purchase geo-filters or on-demand filters that would be available to users who fall within a specific geo-area for a specific period of time. 
4. Story Ads: Get a dedicated tile in the 'Discover' section, where you can showcase 2-30 Snapchat Ads. In short, story ads are a collection of Snapchat Ads. 
5. Product Ads: Shoppable ads that can lead to the purchase of products, service or experiences
6. Commercials: No-skip 60-second videos
Summing it Up
In conclusion, deciding on the type of Snapchat marketing to choose largely depends on:
The businesses' needs,
The type of conversions they seek, and
The user journey they look to establish.
On the whole, the platform has proved its worth for brands to take notice. Like any other advertising platform, there is a need for bid strategizing and ad effectiveness management, apart from just focusing on creative communication. So, if you haven't considered Snapchat for your business, Well, now seems like a good time to try!