In a milieu where entrepreneurship is much-touted, intrapreneurship may not get the same share of voice, but it is definitely a concept that has come of age with numerous intrapreneurship examples to show as proof.
Research from a Gallup study in 2019 shows that companies who listen to their employees are 21% more profitable than their competitors. As Steve Jobs said, intrapreneurship is a group of people going, in essence, back to the garage, but in a large company.
What is exactly an Intrapreneur
Intrapreneurs are highly skilled, focused, and action-oriented employees of an organization who work on new and innovative projects, which have the potential of creating new revenue streams. Whereas, Intrapreneurship is a system where an organization allows its employees to think and act like entrepreneurs and provide them with all the time and resources to pursue projects of their interest.
This culture has seen global success with several intrapreneur examples as a testament of business success. In fact, organisations like Intel, Apple & Google have been built on such an ideology. These are companies that have diligently promoted intrapreneurship in their organizations. By allowing employees to devote their time to futuristic ideas, not related to their normal jobs. On the one hand it helps organizations develop cutting edge ideas. It helps in solving customers' problems creatively and also generating new revenue streams. On the other hand, it serves as a great employee retention tool by facilitating job security. With adequate mentorship, it gives wings to employees' dreams and professional aspirations. The advantages that intrapreneurship has over entrepreneurship primarily include access to:
Capital
Existing consumer base
Cross-functional expertise
Infrastructure including brand name
Stability of a Corporate Job
Mentorship and Guidance
Here is an inspiring list of corporate intrapreneurship examples from International and Indian companies that promote an Intrapreneurial culture. By no means an exhaustive list, it stands testimony to the growing culture over the past decade.
Best Examples of Intrapreneurship
Infosys Technologies
ITC India
Google (Alphabet)
SAP Labs India
Bosch IERO
SONY Computer Entertainment
Ford Motor Company
Hindustan Unilever
DreamWorks Studios
Societe Generale
10 Intrapreneurship examples from International and Indian companies
1. Infosys Technologies
Navin Budhiraja, head of architecture and technology at Infosys, attempted to set intrapreneurship examples within the organization. With the Zero Distance Innovation Programme, Infosys have been able to create an environment where its employees can think beyond their day-to-day jobs and bring process improvements and innovation. OnMobile Global, a mobile value-added services firm incubated within Infosys Technologies Ltd, has grown into a full-fledged company, and even went into IPO. The company embraces innovation so much that it is open to fund other startups as well.
It also has some great programs like Infosys Expert Track for extraordinary programmers who can work on futuristic projects. In order to motivate its army of engineers, Infosys has made certain changes in compensation structure where innovation and improvements are incentivised.
2. ITC India
The idea of e-choupal, an ITC division germinated when Sivakumar, a manager in the ITC Group's agribusiness unit, approached ITC's chairman, with a request of Rs 50 lakh to test an idea. He wanted to procure farm produce from soya farmers in Madhya Pradesh, thereby eliminating middlemen. Today, e-Choupal, reaches out to over 4 million farmers growing a range of crops in over 40,000 villages across 10 states. It provides valuable information to farmers such as weather forecasts, domestic and international commodity prices, and better crop management methods. It has boosted the productivity of farmers and made the agri-products market more competitive.
3. Google (Alphabet)
Google has embraced the intrapreneurial culture from their inception. And, now it is known as one of the perfect intrapreneurship examples. Some of their best products are the outcome of its 20% time policy. Google allows twenty percent of the total time that an employee spent working in the organization for personal projects. Some of its key products like Gmail, Google News, Google Adsense, Driverless Cars, Google Glasses, etc. have come into existence due to its intrapreneurial spirit.
Krishna Bharat created Google News which is a highly successful product of Google. He was a research scientist at Google. The news aggregator platform collates news from 25,000 news websites and based on artificial intelligence pushes the right news towards the right audience. He also opened Google's research and development center in Bangalore.
Similarly, Paul Buchheit created a beautiful template for Gmail and came up with ideas like search functionality and extra storage facility that no other player in the industry was providing, which ultimately lead to the success of Gmail.
4. SAP Labs India
SAP is a software giant, based out of Germany, and a market leader in Enterprise Resource Planning (ERP) application. In India, the company runs a program named InnVent abbreviation for innovation and venture challenge to motivate their employees to think out-of-box. They want employees to look beyond their normal work.
Hemant Rachh who was a product expert at SAP Labs India had come up with a remarkable idea that could help organizations convert all their leads into sales with the help of an AI (artificial intelligence) powered software. Rachh won the award at InnVent and moved to San Francisco to work full-time on the start-up project. What helped them at SAP Lab India was intrapreneurial culture and mentorship. Rachh and his colleagues could have left their job but what made them stick to the organization was venture capital funding that their organization was ready to provide and that too with their corporate job. The chances of succeeding were quite high in the corporate incubation program.
5. Bosch IERO
IERO is an artificial intelligence-based retail recommendation engine that empowers businesses working in retail, hospitality and automotive industries. This idea stemmed from Hemanth and Pawan, who were funded and supported by Bosch India. Currently, IERO has close to ten clients who want to implement AI in their retail business. Bosch not only provided the capital but has also given access to their global client repository. The AI solution provided by the enterprise comprises advanced features that enhance data protection and customer engagement. Similarly, Bosch has funded several such in-house start-ups. They also have a global intrapreneurship program to identify and invest in such projects.
6. SONY Computer Entertainment
Young kids today are crazy about Sony's gaming console PlayStation. PlayStation is an international video gaming brand that grew within Sony Corporation, and soon grew to become a leader in the gaming console industry. In the late 80's, Ken Kutaragi, one of Sony's junior engineers tinkered with his daughters gaming console and was able to create a better product. But very few people know that Paystation received stiff resistance from Sony's top management because, back then, nobody knew the future of the gaming industry. Many people thought that it was just a trend and it will not last long. But the group CEO Norio Ohga supported the project and in 1994 when the first PlayStation was launched, it received blockbuster sales. A separate company was made with the name Sony Computer Entertainment. Ken was made the CEO of this newly created subsidiary and subsequently he was made the group Chairman and CEO. Nobody questioned the future of the gaming industry after that.
7. Ford Motor Company
Ford Motors is a pioneer in the automotive industry. Since their inception in 1903, the company has managed to remain afloat despite the cut-throat competition in the industry because it was embraced as one of the perfect intrapreneurship examples. Each year 3,500 break-through innovative ideas come from the organization with a majority from the non-research department, showing the participative culture that Ford has within the organization.
One such creative idea was from Doug Martin. After observing a few drops of water dripping from his car, he gave an idea that drinking water can be produced out of condensed water coming out of the car's air conditioning system. The condensed water is filtered and then passed on to a tap near the gearbox. When he created the prototype, he found that 64 ounces of water can be produced this way within an hour by a single vehicle. Ford promoted these cars with an advertising campaign 'Try On-The-Go H2O'.
8. Hindustan Unilever
During 2009, when the economy across the globe was under subprime crisis, HUL was shifting to an intrapreneurial culture under the leadership of its former MD and CEO Nitin Paranjpe. HUL was the market leader with more than a million points of sales in India. They were also expanding their distribution networks by close to 15,000 retail outlets a year, which was enough to maintain their status as market leaders.
Going beyond this, Nitin created a target to add 5 lakh points of sale a year.. He worked on expanding the company's network to include mom and pop stores even in the remotest corner of the country. However, one serious issue that HUL was facing was the cost of transportation to far off villages, which was posing to be a financial burden. Through a genius partnership with TATA Docomo they were able to see a jump in productivity. The reason behind this success was a result of the intrapreneurship culture in his team, where they created a solution model to distribute TATA Docomo's sim in order to reduce their own costs.
9. DreamWorks Studios
Dreamworks Animation Studios is a subsidiary of Universal Pictures and the creator of some of the most breathtaking hollywood animated movies like Kung Fu Panda, Madagascar, etc. And, it is yet another on top of the list of intrapreneurship examples. The animation studios encourages all its employees to come up with ideas regardless of their position or department and be a part of the creative process of film-making. The studio invests heavily in providing their employees with short courses that give them knowledge, skills and the requisite aptitude to pitch their own story ideas and scripts to management.
10. Societe Generale
Societe Generale is the third largest investment bank and financial service provider in Europe. For them Intrapreneurship is all about promoting entrepreneurship within the group. They have an internal intrapreneurship program called Internal Startup Call. Through this, they look forward to the creation and development of their future products and services. It is one of the most highly successful incubation programs in the world with 15,000 participants across 9 countries. The company has invested 150 million euros in the innovation fund giving life to 70 start-ups till date under 17 strategic innovation themes. One such strategic innovation by one of their startup is Elyxir, which is a financial coaching app. It guides its users to make rational financial decisions by checking several parameters and suggests them right financial products.
How to Inculcate an Intrapreneurship Culture?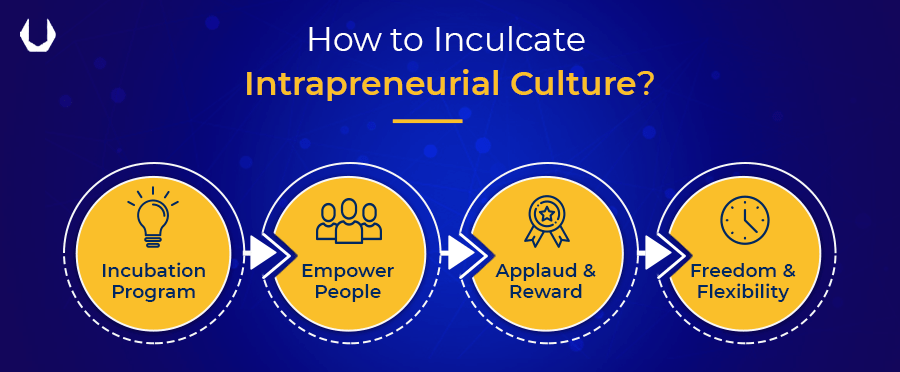 Freedom & Flexibility
Most organizations overload their employees so much that they hardly find enough time to think or share new ideas with management. You have to ensure that your employees have enough time to think and work around new ideas.
Empower People
Inspire them to think out-of the box and it is absolutely fine if they fail. The pressure of not to fail is enough to thwart any good idea that employee wants to share.
Recruit the Right Mindset
Hire people who are street smart and who have creative or entrepreneurial bent of mind. Create a way that motivates them to share their ideas with top management.
Incubation Centre
Create an incubation centre or an internal program to identify and motivate outstanding employees for futuristic and innovative projects of the organization. An individual from the top management should ideally be the head of such an incubation centre.
Applaud and Reward
Linking performance appraisals and reward system with innovation and creative ideas is the best way to inculcate intrapreneurial qualities among employees.
Provide Mentorship
Many great ideas do not see the light of the day due to lack of knowledge and experience of their employees. Right coaching from their superiors can help them put across their ideas clearly in front of management.
Benefits of Having an Intrapreneurship Culture
Increased profitability by streamlining existing business areas.
Creating new revenue streams out of newly incubated innovative projects.
Attracting and retaining the most creative and entrepreneurial employees of the organization.
Making your organization more agile, proactive and ready for any change.
Better engagement and increased collaboration within the organization.
The benefit of having an intrapreneurial culture is always two-fold. Intrapreneurship makes an organization more commercially successful with a motivated and happier workforce. You must always remember that just like you all your employees have a thorough knowledge and interest in your business processes and products. Maybe one of your employees is sitting with an idea that can provide your organization a competitive advantage in the years to come.
Maha-Intrapreneur awards have been instituted and are presented each year to intrapreneurs in India for their efforts in accelerating the growth of their organizations. Running in its eighth year, it facilitates the innovative contributions of intrapreneurs who have brought big ideas to life.
May their tribe increase! Should you know of any noteworthy intrapreneurs or companies that actively promote this culture, please feel free to highlight their contribution through the comments section below.
Intrapreneurs are highly skilled, focused, and action-oriented employees of an organization who work on new and innovative projects, which have the potential of creating new revenue streams. Whereas, Intrapreneurship is a system where an organization allows its employees to think and act like entrepreneurs and provide them with all the time and resources to pursue projects of their interest.