Google Ads automation is "a solution" designed to increase the value and efficiency of paid marketing activities with minimal efforts. Paid marketing, at the end of the day, is all about engaging the audience at the right time and at the right place. To find these opportunities manually can be a hurdle, this is where Adwords automation can be handy. Google Ads automation uses machine learning to analyze millions of triggers and signals created by the audience and then show the right ads at the right place to the right people and at the right time. While Google endeavours to make things simpler, PPC is ultimately a game of strategy. By combining the machine's increased ability with a specialized strategy we can optimize campaigns to give better ROI while saving a lot of time.
What Google Says You Can do With Ads Automation
Automated Bidding
Everyone knows that Google Ads works on a bidding or auction model. With bidding, you are able to create a model for putting your money based on the results you wish to achieve, or what kind of performance matters more to you. So naturally, we either focus on impressions, clicks or conversions. But this can't remain a constant, you need to have the ability to constantly optimize the bid to extract maximum results. Through automated bidding, Google reduces the time advertisers spend on maintaining their bids – giving better results without exceeding budgets.
Types of Automated Bid Strategies
With seven automated bidding options from Google, businesses can leverage the power of machine learning to optimize ad performance goals in accordance with their preferences. Four of these bidding options are based on Smart Bidding. Most of these bidding strategies are available either as a portfolio bid strategy for multiple ads or a standard strategy for individual campaigns, or both.
Bid Strategy
Maximize Clicks
To increase traffic of site visits.
By setting a daily budget, you allow Google to automatically set the CPC (Cost Per Click). To avoid incurring steep costs on a particular bid, you can set a limit to get tighter control on ad spends. However, this should be done with caution, as it could restrict ad clicks.
Target Impression (Smart Bidding)
To Increase impressions and visibility
Here, the goal is to get your ads on the top of the page. So, the bids are set automatically to make sure that ads are set either on the top of the SERP or anywhere else on the page.
Target CPA (Smart Bidding)
To increase the number of conversions by setting a target CPA
Earlier called 'Conversion Optimizer', this uses ML to optimise bids for every aution. While some conversions could be above or below your target, the machine would try to bring the overall cost inline with the target CPC.
Target ROAS (Smart Bidding)
Set a Target Return based on the Ad Spend
This is helpful especially when you value each ad differently. This smart bidding strategy helps you get a maximum conversion value based on a target return. Here, the ad spend is an important factor, and some conversions would cost higher or lower than the target you set.
Maximize Conversions
Set a budget and get more conversion within the budget
Based on your budget, this bidding strategy automatically sets the goal to achieve maximum conversions.

Maximize Conversion Value
Set a budget and get more conversion value within the budget
Similar to maximum conversions, this strategy automatically is set to give you a maximum conversion value, within the confines of your budget.

Why You Can't Rely Completely on Machine Learning
Target bidding, however, is not fully automated. The solution definitely automates the bid management system; but, as one would still have to adjust target beforehand. For Google's part, the algorithm can easily target the audience by closely observing the location, device or language. But then again, an ad campaign can be influenced by various other factors like social media, weather, media coverage or even flash sales. This is where Google's machine learning becomes less effective, demanding management and optimization through human intervention.
Smart Creatives
Creatively is no longer a game of opinion, because in digital marketing, advertising is strongly influenced by creative quality. Google's Smart Creatives uses machine learning to create a combination of creative assets that ultimately performs.
Responsive Display Ads
Responsive display ads uses machine learning to test multiple inputs (like headlines, images, logos, and descriptions) and then continuously optimize the Ad for performance. They are now acting as the default ads for the display network.
Dynamic Search Ads
There are companies that deal with a range of different products. With so many products at hand, these companies find it difficult to keep up with their search ad optimized. Google's Dynamic Ad solution helps the advertisers to target their ads with a relevant advertisement inquiry. The Dynamic Ads campaign works once the advertiser chooses whether he wants to add all the pages from their website. Once it is done, Google will begin its ads with an automated ad headline.
Responsive Search Ads
Create ads that adapt to show more text – and more relevant messages – to your customers.
Recently, there are significant changes in the updates to automate Google Ads. Here is a list of the things these ads can do automatically and what you can do to improve the results
Things Google Ads Can Now do Automatically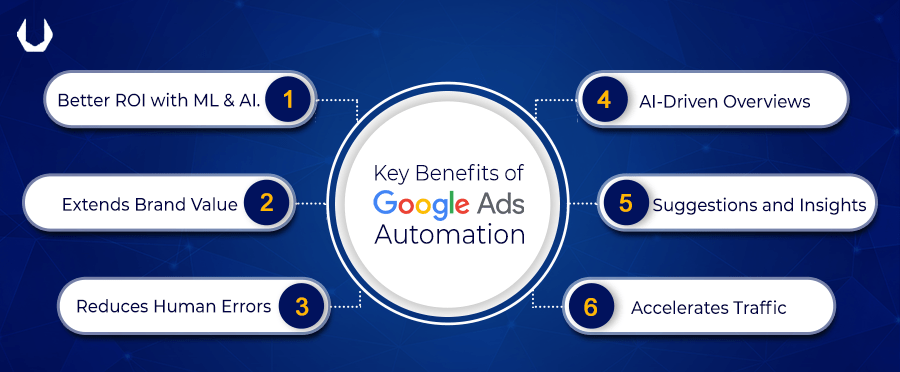 1. Smart Campaign
After rebranding from Google AdWords, Google Ads debuted its services with the Smart Campaign Solution. The campaign is specifically designed for small businesses, who do not have skilled online marketing professionals tirelessly working for them. Almost a fully automated service, Smart Campaigns are created to offer better results within a given time frame. The Smart campaigns are developed on top of the Google AdWords Express, that target consumers across all Google platforms. The campaign helps small business owners create an automated landing and ad page, based on any information found on "Google my business". Although the campaign works just fine, there are still a few changes that need to be made in order for it to work with no issues. The users have to update a few pieces of information like language, target location and budget for the campaign has to run smoothly. Once the information is updated, they will not change. This means the Smart campaign solution by AdWords requires almost no management once you get it up.
2. Universal App Campaign
Popularly known as the "AdWords Express for Developers", the Universal App Campaign was initially launched in 2015. The solution is the very first fully automated update by Google Ads, which intends to help users with more app download and real-time results in in-app conversion. For Universal App Campaign, Google does everything on its own. From handling the creative part to the target audience and manage to bid, it works tirelessly to help advertisers achieve their goals with as many conversions as possible while sticking to a particular budget plan.
As Universal App Campaign is a fully automated campaign, there are very few things you have to do manually. However, to begin your campaign, you have to set up a daily budget plan along with cost per click, location, and language on your own. To leverage your marketing idea, Google will also ask you to add a few things such as images, ad text ideas, videos or HTML5 assets. This helps Google's automated ad generation system to be creative in the beginning.
3. Goal-Optimize Shopping Campaigns
With a goal to help shopping retailers simplify their advertising needs in online marketing, Google advertising has come up with another automated option called Goal-optimized Shopping Campaign, quite similar to Smart campaign for small businesses. Shopping ads are crucial for retailers as these ads can help them get 60% more clicks on Google. And the Goal-optimized Shopping Campaign helps the retailers streamline the same by using at least 20-30 sales conversation in the last 45 days. The campaign helps the advertisers to envisage bids which can become potential sales. As an advertiser, you just have to set up a budget and your target CPL manually and the campaign will run accordingly to help you achieve your goal.
Closing Thoughts
Google surely has brought a number of automated options to help advertisers with result-oriented ad options. But this does not necessarily mean that one can ignore the importance of a professional and skilled PPC expert. If you wish to get a better result out of advertising needs, try to make human reasoning and machine learning work together.