Could we have ever imagined that an "instinct" would be the core reason for a billion-dollar food delivery industry? Hunger isn't an appetite, but our instinct. As much as our conscious state wouldn't agree to this, this is what drives our subconscious mind to satisfy our taste-buds. And, with our evolution over the years, we have been adapting to changes in our lifestyle and eating habits. 
The Evolution of Online Food Delivery Industry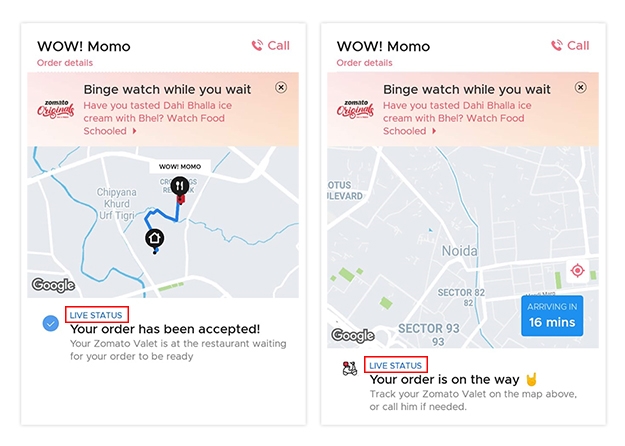 When it comes to online food delivery, Zomato and Swiggy are the go-to for most Indian consumers. Zomato started as a food review website, a segment with fairly low competition. They gradually grew to become one of the leading food aggregators in India, extending their services to order food online and delivery. Today, the brand evokes trust, an order from Zomato assures genuine quality and timely online food delivery.
Accelerated Tech Support for Growth
We can trace the success of the industry to the advancements and innovations in tech over the recent years. Machine Learning (ML) and Artificial intelligence (AI) have brought massive changes to enhance the service offerings of the industry.
ML allowed accuracy in anticipating results without being explicitly programmed, this meant things like accurate and timely online food delivery, efficient route planning to avoid delays, etc. AI, using intelligent machine capabilities did all the 'heavy-lifting' in terms of insights and strategy. By fusing ML technology with AI, the system grew more sophisticated. For instance, online food delivery apps today helps customers choose their favorite dishes with suggested recommendations. It also helps in the discovery of new restaurants and also provides a real-time update of delivery partners in the area.
Both these technologies have contributed in a complete Digital transformation, providing an edge for the digital aggregators to classify their target audience, focus on their satisfaction and retention, and inspire customer loyalty. So, it's safe to say that tech advancements helped in solving complex issues, making quicker decisions to generate accurate solutions.
Point in Case: Transformation From a Food Review Platform to a Online Food Delivery Aggregator
Coming back to the example of Zomato, it has indeed been a roller-coaster ride as they have expanded their verticals in many 'digitally-integrated' activities. Their success didn't happen overnight, they had to incorporate advanced technology in order to gauge the target audience and know what are the key factors that drive them towards ordering food.
Food Delivery as a Niche Segment
But why use AI and ML to supercharge the industry?
The opportunity in this segment can be traced to certain demographic factors and preferences. When we look at the growing percentage of the working urban population, we can identify certain key behavioural patterns. For instance, the purchasing power of this segment is a major factor, the fast-paced lifestyle choices all bottles down to this. Another factor is food-consciousness that has resulted in specific food sects like vegan, gluten-free, low-carb, high-protein, etc. This has led to the rise of new-age restaurants, catering to specific food preferences. And, with the already robust food delivery infrastructure in place, these restaurants were able to circumvent traditional entry barriers and fight off the intense competition. Apart from this, the importance that these food delivery apps have given to bettering the customer experience has also fuelled the growth of the sector.
Tech Support
In the process of order food online smoothly, the food delivery apps have aligned their logistics with GPS live tracking, giving more information to the customer and taking the guesswork out of the equation. They have also given priority to the customer experience with more efficient infrastructure to handle customer complaints and issues. This includes support via Chatbot that results in precise and speedy redressal of customer issues.
Rewards and Discounts
Most online food delivery has integrated their apps with the most popular digital wallets like Paytm, GooglePay and PhonePay to name a few, which makes the process of order food online hassle-free. Another approach towards retaining customers are discounts and rewards, which are sure wins for the customers, especially during the festive season.
Logistics Support
Most digital aggregators operate on more cost intensive revenue model and are responsible for the whole delivery logistics. They build their own logistics networks, providing delivery for restaurants that don't have their own drivers.This segment has gained popularity in the past couple of years even in the developing cities.They focus on online food delivery services that provide customers with meals from partner restaurants that do not have food delivery services themselves. In this case, the platform handles the delivery process.
Marketing Success Highlights
The Digital Food Aggregators have contributed to a huge market share and some extraordinary innovations over the years, considering the requirements and demands of its consumers. In order to combat the competition, there are certain factors which have led to major technological progression.
Strong Digital Presence
Over the last couple of years, a lot has been cooking to drive customer engagement, so much so that we've seen key players cross traditional boundaries. These are the times where StandUp comedy has been booming in Gen Y and Z and this drives them towards the curiosity of what these comedians' views are as their performances are relatable. To leverage this, food aggregator app Zomato, launched an in-house content creation under the alias Zomato Originals, allowing users to watch videos while they wait for their food. Such Marketing strategies creates the fascinating prospects, especially since the boundaries seem limitless.
Popularity User-Generated Content
We live in a 'socially' connected world, where user-generated content is the strongest sale. By sharing their experiences via pictures, reviews and ratings, these no greater testament to the quality of the 'food-experience'. Restaurants see this as an opportunity, several partner with leading social media influencers as it acts as a huge advertising and marketing model.
Multitouch Model
It works on tools that determine the worth of every consumers's touch point leading to a sales conversion. This helps understand the marketing campaign or channel that was most effective and worth allocating funds to the future generations. It is a set of rules giving value to different marketing channels. It is the only reliable way to get visibility into a marketing campaign within the shortest time-frame.
What 2020 Holds for This Industry?
The end of 2019 marks the end of the decade which was revolutionary in the area of technology. Many countries are delivering food through drones which was deemed impossible a decade ago. And 2020 will also bring some serious changes too.
Millenials and Gen-Z are the Key Factors for Growth
The days are over when one was confined to the limited food options and undertake the pain of either cook for himself or be dependant on the processed foods. The millennials have tight schedule and don't mind spending on food on a daily basis. Marketing efforts only aid this process, the AI gauges their need and pop time-based notifications with food and buying suggestions. This can be categorized amongst some of the brilliant marketing and sales strategies to attract and retain the customers.
Affiliations With Gyms and Other Healthcare Services
A growing percentage of the consumer segment are health conscious and look for healthier food options to fit with their fitness routine. This has resulted in new-age service models and new ventures. Let's take Cure.fit for example, this is a startup Indian venture known for their fitness studios in major metro cities. They recently launched Eat.fit with healthy and nutritious meal options, but their masterstroke was creating a model for customers to earn points through gym memberships and spend it on food. Apart from this they also have a food subscription. This just goes on to show of businesses are keen on making, not just food, but food delivery and integral part of a customer's journey.
Eliminate Factors Leading to Time Constraints
Other food delivery Start-ups are also exploring different modes of delivery, including smartwatches, drones, parachutes, bicycles and e-scooters. This efficiently helps decrease the cost per delivery. These being some preconceived beliefs, it will be intriguing to anticipate what happens in the years to follow. This approach would gradually substitute manpower in the coming years.
Contemporary Channel
Social Media has significantly helped food businesses thrive and create an online presence. People enjoy sharing pictures of their food along with their reviews making 'word of mouth' a big sell. It is only expected that this will play a bigger significance in the future.
It is expected that the influence of Voice Search would be implemented, which could draw the consumers attention to easily order food online by voice- the customer just needs to tell the virtual assistant that they wish to order food, it would place the order and accordingly tell him the estimated time for delivery.
Also, Google Lens has been integrated with the camera of nearly all smartphones – one can scan the image and the Google Lens will detect the dish, the Virtual Assistant would accordingly order food online and the payment would process automatically through the mode from which previous orders were made.
Conclusion
It's evident that this industry has accomplished prosperity and the pace at which its implementing innovations keeping the target audience into consideration, it's likely to witness much more success. This would automatically contribute much more than what their operating current revenue model shows.