Digital marketing is gaining popularity with time as more and more brands are resorting to the Internet to attract new customers to their website. And, one of the common ways to increase brand exposure is through Search Engine Optimization (SEO). While new entrants to the online bandwagon struggle to choose the right strategy and continue chasing from one strategy after another, however, the veterans in this field know the right methods that can work.
While the SEO is a vast subject which is rapidly evolving and is an ongoing process, this blog covers the most common and an interesting technique in the realm of SEO – Internal Linking.
Let's understand what is an internal link and why it is an essential element in an SEO strategy?
What is an Internal link?
Internal Link is a significant element in the SEO; it is a link that connects another internal page of your website. For eg, a link in the blog post that connects your internal page (service page) of your own website. Internal linking helps you to build the authority of pages on your website and enables you to get these pages ranked and indexed.
Internal links are valuable as it strengthens the search engine results pages (SERPs) of a website.
Some of the quick benefits of having a robust internal linking strategy are:
It supports the crawlers or spiders by providing them a clear path to navigate through the website
Increases backlinks and connects your content pages at a deeper level enabling Google to understand structure and establish hierarchy of your website
Allows Google to distribute the page authority to the most important pages and posts
Provides value to the website visitor through a tightly-knit website
Improves overall site performance in the SERPs
But, before we craft an effective internal linking strategy, it is crucial for the website owners to relook and evaluate their website. One of the most common mistakes found in many websites is with their site architecture. Their main navigation links are buried or hidden which are not accessible directly by the search engines.
It is recommended that an optimal website structure that looks like a pyramid is followed for a website that has the most important piece of content on the top.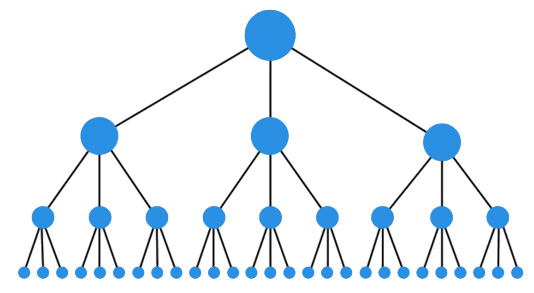 The above illustration shows a website that follows a pyramid structure (which is organized with categories, topics and sub-categories) that has a minimum number of links between the top homepage and the other page. Such a kind of structure allows the link juice to flow throughout the entire website and increases the ranking potential of each page of the site.
Now, it's time to get into the nitty-gritty of internal linking. Let's understand:
What are the best practices of internal linking?
What are various ways to access websites internal link architecture?
6 Best Practices of Internal Linking
Outlined below are top six best practices you must consider for your internal linking strategy.
What are various ways to access websites internal link architecture?
Once you jumpstart with your internal linking strategy and after placing few quality links on your pages, you will see that the pages with links will start ranking higher with search engines than the one without the links.
However, at this time, it is absolutely critical for the website owners to keep a close check on on the growth of organic traffic and its rankings.
Take a quick look at few of the tools and reports to help you with deeper insights on internal links and its structure.
Final Thoughts
Internal linking has its own significance specially in improving the overall SEO performance, and improving SEO juices to attract organic traffic and rankings. But, overdoing it or if done incorrectly can completely ruin your SEO strategy. The winning strategy is to implement the recommendations and build a strong internal architecture to ultimately increase sales and revenue.