App engagement is a collection of metrics that indicate how many people are engaging with the mobile app. Based on features and user types, it can give you specific statistics of user engagement. These various matrices, such as Daily active users(DAU), Monthly active users (MAU), Active users, session lengths, reveals just how involved mobile users are.
An user can login every day and buy products on an eCommerce app, while the same user might only use an invoicing app once a month. This only goes to show that there is no simple quantifiable concept of loyalty across multiple goods. There is no necessary rule defining the best engagement model, yet for any natural app, a user logging in daily is an engaged user. Developing an engaging mobile application involves much more than an intriguing concept. And, when it comes to the world of apps, user retention is a befitting touchpoint.
Here are some time-tested strategies to drive your app engagement: –
1. In-App Messaging – Channels to Reach the Users
Marketers can use in-app messaging to deliver alerts, notifications, incentives, customized messages, requests for approval and tips and tricks for users. In-app messages may be shown as banners on top of the screen or displayed on the whole screen. These alerts slide up from the bottom of your app to show something noteworthy . They appear while the user is using the app, more or less similar to push alerts. As they vanish after a few seconds , users find them less disturbing.
Omni-channel marketing approach sees a retention rate of 89%. Here're various other channels that can also go around to increase the user-engagement:
1. Emails – It is not worth underrating the influence of email in the mobile environment. Emails were rendered almost as quickly by smartphones as push alerts. Therefore, email is an easy way to push client re-engagement with applications that capture email addresses. Emails can be used for welcoming a new user or to an existing user to check out an unexplored feature or new deals that they are missing out. The inactive users can be reached by emails to encourage and entice them to open the app by including a message about the new app version which they might want to check.
2. SMS – SMS provides a quick contact and is useful for forwarding a message that the user may like. SMS can be sent to inactive users by offering them great new deals or updates. With SMS, new segments of users can also be reached who might want to download the app.
3. Social Sharing – Social networking has helped a large number of individuals to share their products online and, if necessary, to obtain a widespread audience through their app. Through sharing their interactions with your users in your application, you can make your app go viral.
2. Onboarding – Proper Orientation for New Users
User onboarding is an essential component of your ASO strategy. To create an ideal first impression for making the app stand out, a seamless onboarding is essential to define the value that the app offers, instead of educating the user about the app and bringing the focus to what solution does it provide.
On an average, a mobile app loses its users by 78% within the first three days of installation. Well-designed onboarding experience improves the probability that the new users will become full-time users after the app is installed. Not only that, you always have a space to try new onboarding styles rather than presenting a typical 'swipe through' experience which is used by a lot of apps.
The best way is to provide the users with a contextual guide as they go through the product. It can be made interesting and engaging by inserting animations. The focus should be to create an illustration that simply introduces the app's value.
3. UI Modifications – Regularly Upgrading the User Interface
Every now and then, in- app modifications generate an attractive look of the app, to make it look insightful. When the UI is modified regularly, it keeps the users interested and always on a lookout for more. While upgrading the user interface,the user's preferences are the priority. To get familiar with the preferences and needs, you can carry out the feedback.
The progressive improvements increases the user's commitment and retention. Nevertheless, crashes and glitches are common when released. But if the app lags, crashes with longer load times – consumers cannot acknowledge any of these variables and the retention rate and metrics are impacted.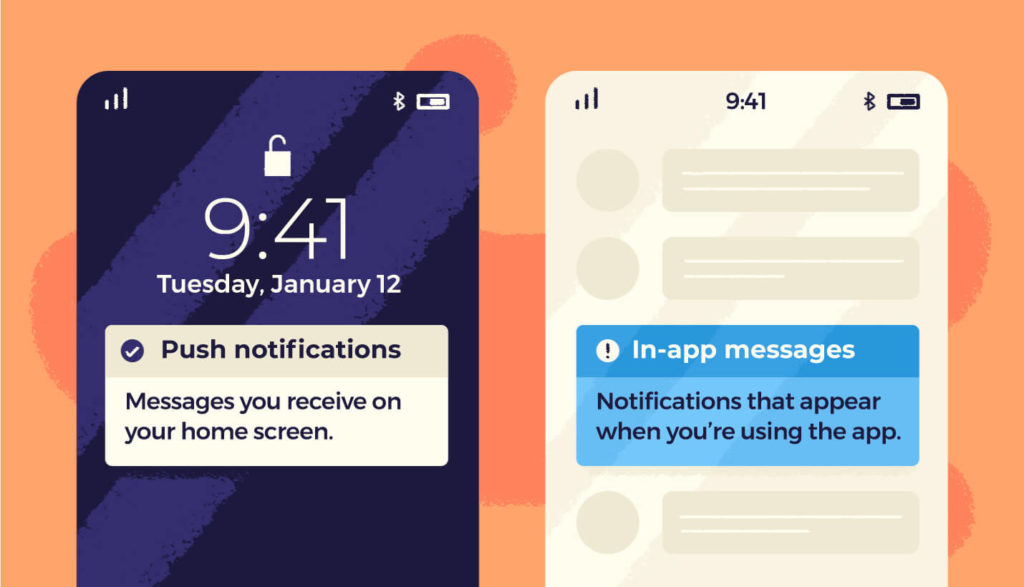 4.  Push Notifications – Triggering Notification on the Basis of User App Activity
The most effective way to engage or re-engage the inactive users is by push notifications. Similar to onboarding, the focus for push notifications should be towards providing the users with the value that the app delivers. If the push notifications doesn't strike a right chord in terms of quantity, it might put the user off. It's imperative to deliver the push notifications in an intrusive manner. Sending just one onboarding-related push notification to new users once or twice a week after the app has been installed will increase  retention by 71% over two months.
It's also important to consider personalizing the push notifications to engage the audience. The more the message is tailored, the more likely they are to launch an app session and potentially invest money. Push updates from rich media are more expressive, intellectually stimulating, and engaging. More importantly, they stand out and quickly catch notice.
Moreover, you are far better positioned to tell which factors are more likely to improve your app interaction KPIs by knowing your 'user's behaviour'. When you study the stats and notice that the majority of the notifications that are opened are between a given time frame of a day, that would be the right time to send the notifications. For example, you can see when your users are watching a game or sports or checking the scores in the app, you can then start to hypothesize the value proposition and fine tune the push notification strategy.
5. Using Deep Linking for personalised notifications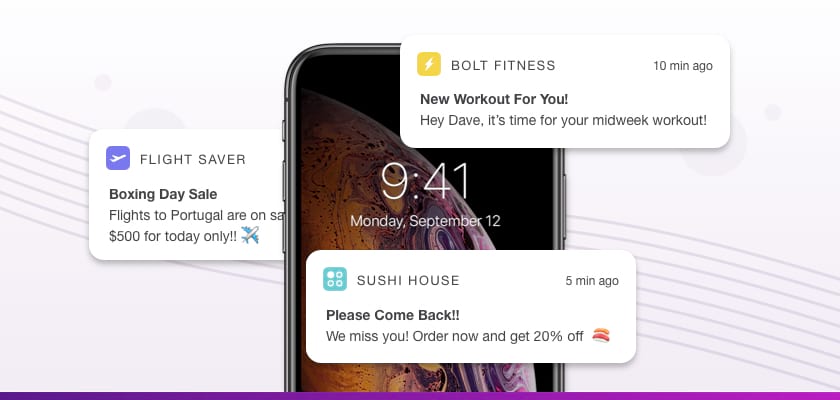 Using deep links in your app, alerts, whether via SMS or push are much more effective. Once you get the right strategy for push notifications, the next step is to focus upon the location where the notification lands for your user. Deep links will direct users to particular views within your app. This is an important characteristic of long-term brand-customer partnerships.
If you want to boost app re-engagement, you need to make sure the customized notification leads the user to the right location. It is always a best practice to give the user an option to opt-in or opt-out for notifications.
6. Feedback – Facilitating Two-Way Communication
Two-way contact is crucial if you want to maximize your app base and improve engagement, the added benefit is that if you find an unhappy user and get timely feedback , it's far less likely they're going to leave you with a bad rating.
It's true nothing can beat a direct input from your users. User feedback is a critical part of your app and an effective way to improve your participation. In addition, demonstrating that you care for your customers and want to enhance your customer experience is a certain way of boosting commitment and long-term loyalty.
7. Regular Updates – Keep the App Updated
If the app is not streamlined, users will leave the app for other options over time. Updates will surface in app stores to inform the users that you commit to your application. It is a great way to show your dedication and share new features with the users. The amount of changes depends on the types of releases you produce and the number of users you own. It is always a best practice to create a plan for regular updates.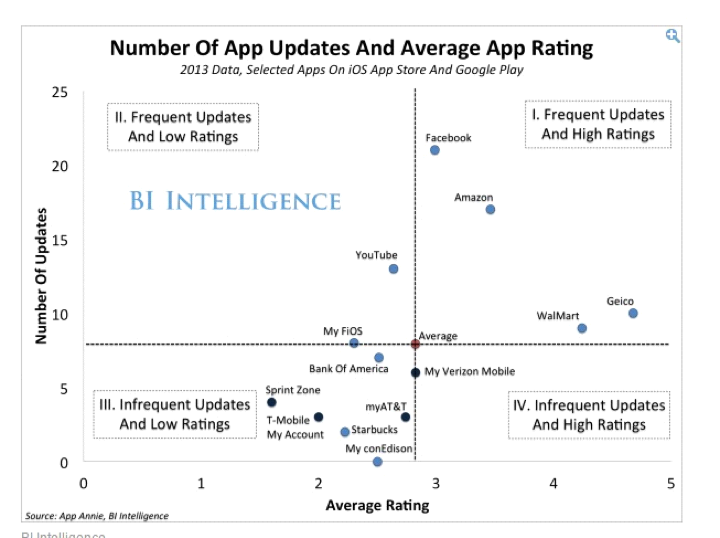 Key Takeaways:
Identify specifically which aspects of your apps engage your users.
Instead of engaging with them for the sake of it, think of delivering value to the users.
Personalization is the key when it comes to communicating with the users.
Understand the user behaviour before implementing a strategy.
If you have a gaming app, make sure to give incentives via push notifications.