First things first, there is no need to panic – not yet, at least! Before we dive deeper, use the Ad Preview tool to be certain that there is indeed an issue. The status column, next to your ad will give you an update of the ad status, and highlight tips to have your ads up and running, in case they weren't earlier. If your ads are still not running, then it's time to indeed dive a little deeper.
Broadly speaking, there are two sets of reasons that could cause your Google Ads to not show up:
Non-performance related issues: These don't have to do with the quality of your ad and are largely operational issues that have been overlooked.
Performance-related issues: Performance-related issues, on the other hand, are to do with the fact that you may be flouting some best-practices.
With Google committed to providing the best user experience while factoring in the inputs it receives from an ad auction, your ads may be taking a beating. Let's deep-dive into both these sets in some detail.
11 Common Reasons Your Google Ads Are Not Showing
Non- Performance/ Operational Issues
You could be following all the best practices related to Google Ads and yet your ads may not be showing up on account of these operational issues:
1. You have chosen low volume keywords
Low search traffic keywords could be one of the reasons your ads are not showing up. The keywords could be a niche or long-tailed phrases that don't boast a high search volume.
Google, on their part, disables these keywords, to not trigger your ads. So, naturally, these low volume keywords may be rendered inactive and ads related to those keywords will simply not show.
Correction Strategy
It's imperative that you use the keyword planner effectively to find relevant keywords that have substantial search volume.
Should you remove low search volume keywords?
These keywords don't have any specific negative impact, however, it's always recommended to mix in border keywords or keywords that are less specific. Broad match keywords usually have higher search traffic and you might be able to better your ad performance.
What is a good keyword search volume?
There isn't a one-size-fits-all answer to that question. When deciding on the keyword volume to target you need to consider two factors: volume and competitiveness. Keywords with higher volumes mean more exposure, but they are also likely to be far more competitive.
How to find the best keywords for AdWords?
Start with brainstorming a keyword list including brand terms, generic terms, related terms, and competitor terms. Remember to include variations and synonyms. Putting yourself in the customer's shoes can go a long way in identifying the right keywords. Expand and refine your list with keyword research tools.
2. Your bid is too high/low
Odds are that you have set your CPC bid for a particular keyword that exceeds the budget of the campaign. This happens when you aren't sure of what you are doing, and thereby, have exhausted your entire Ads budget in just a few clicks.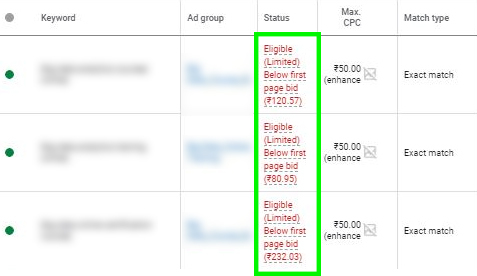 Or, you could have set a bid price that's too low and you don't stand a chance, given the competition. Pro tip: In case of a low keyword bid, it's important to remember that your ad may not be appearing on the first page, but could be appearing on subsequent pages.
Correction Strategy
You need to ensure that your account is free from such conflicts. Using bid simulators can help you estimate the result of increasing your bid amount, in cases where low bids are a  stumbling block. Most people assume that using automated bidding helps you sit back and relax. Sigh! If only Google saw it that way. We'd always recommend optimising your bidding strategy to take your conversions and campaign performance to the next level.
What are bids on Google Ads?
Simply put, to be able to run your ads on Google, you need to decide on your budget. Your maximum cost-per-click bid is the maximum amount you are willing to pay for a click on your ad. With higher bids, your campaign is likely to receive more traffic, although it will exhaust your budget quickly. WIth lower bids, on the other hand, your campaign is likely to receive fewer clicks and hence fewer conversions. The important bit is to find a bidding strategy that aligns with your overall customer acquisition goals.
How much should I bid on Google ads?
It depends on your individual goals, but a good thumb rule is, if your primary goal is efficiency, bidding at about 50% of your break-even CPC is recommended (Break-even CPC is the amount spent on PPC which is equal to the lifetime value of each paying customer). If the volume is your goal, you could go as high as 70-80% of CPC.
How to reduce Google Ads CPC?
Some of the aspects that work well in reducing CPC include:
Making ads relevant
Using long-tail keywords
Testing multiple landing pages
Structuring ad groups and keywords
3. You have scheduled too narrowly
While setting up your ad campaign, you would have set up an ad schedule that involves choosing the days of the week you want your ad to be shown, as also the hours. You would have also chosen the geographical region you are targeting. Here, you need to ensure that your choices aren't too narrow. If the location you are targeting has low keyword search traffic, then your ads simply won't show.
Speaking of location targeting, check if you have accidentally set the locations to "excluded" or if the bid adjustments are too low for targeted locations.
Correction Strategy
Use the ad schedule tab to make sure the ads aren't scheduled too narrowly. Expanding the schedule to include more hours and days and also checking the location tab under settings to broad base your locations will resolve the issue.
How do I change the schedule of a Google ad?
Sign in to your Google ads account. From the page menu, click Ad schedule. Go ahead and select a campaign. Click on the pencil icon. To adjust time and dates, click on the ones you would like to change and add new ones. To add a new date and time, click "Add". Save changes.
How to measure the performance of specific audiences? 
A lot of the time we see cases where ads are specifically targeted to see how the audience is responding to them. This is a waste of an ad budget. And oftentimes, your ads don't show up in the first place. Instead, set a broad targeting and use observation setting to analyze the performance of specific audiences.
4. Active keywords are being negated
You would have set up some negative keywords so that your ads do not match with queries that aren't relevant for you. It's a possibility that these negative keywords are cancelling out the active keywords.
Correction Strategy
Review your negative keyword list to see any targeted keywords aren't being nullified. Switching from broad match negative to exact match negative is likely to do the trick!
Should I get rid of negative keywords on Google Ads?
No. With the use of negative keywords you tend to:
Increase CTR
Improve quality score
Increase conversion Rate
Save money
Why do you add negative keywords to your ad?
Negative keywords prevent your ad from being triggered by certain words or phrases that aren't relevant to you. With the use of the right negative keywords, you tend not to waste money on irrelevant searches as also increase your conversion rates.
Is it possible to "sync" negative keywords across campaigns with a script? 
Yes. You can fit all negative keywords onto one sheet and assign the negative list to campaigns on a one-screen basis with some rules. It saves you the trouble of going through the search terms in Google Ads UI.
5. Large negative bid adjustments
Odds are that the reason your Google ads are not showing has to do with the fact that the negative bid adjustments that you have made are too big. Simply put, these are adjustments you make that allow you to automatically decrease your bids in a particular campaign. Maybe your exclusions based on device, demographic data, time of day, location etc are too large, thereby knocking you out of competition during the ad auction
Correction Strategy
Revisit the exclusions and see if there is a way to narrow them.
How do bid adjustments affect the display of your ad?
When you set bid adjustments, your bid automatically increases/decreases for specific target groups. This helps optimise your ad in a way that ensures your ads are visible to the set of people who meet your targeting criteria closely, and you decrease the chance of showing your ad to those not meeting your criteria. In summary, it helps with lead quality.
Why you need to apply negative bid modifiers
Negative bids modifiers help our ads not show up for terms that don't work in favour of our campaign. Consider this a PPC tactic that, if done correctly, shows positive results. The same negative bids modifier strategy can also be used to make adjustments for ad schedules, devices, and locations. It might be easier to set bids for what is not working.
6. Other Operational issues
Some of the other operational issues may have to do with:
Paused or deactivated ads
Depleted budget
Invalid payment information
The ad is in the approval process
Is it bad to pause Google ads?
Even though pausing and resuming a campaign, ad group, keyword, or ad does not affect the quality score or historical data, you can expect a slow ramp-up when you resume.
Are ads paused automatically? 
You can use automated rules to pause your campaigns, schedule your ads to appear at specific times of the day, factor in seasonal variations and more.
How long does it take Google to approve an ad?
Most ads are reviewed within 1 business day. However, some reviews could take longer if the ad requires a more complex review.
Performance/ Quality-Related Issues
The other set of reasons why your ads are not showing on Google Adwords has to do with quality issues or the fact that you aren't quite adhering to the PPC best practices. What you need to resolve this set of issues is the time and effort spent on optimization.
7. A closely related set of keywords
There are two components in your Google Ad Accounts: the keywords that you have grouped and the associated ads. When a user's query triggers one of the keywords you have grouped, Google selects an ad that is related to the keyword. One aspect that you need to work on is to ensure that the keywords that you have chosen are closely related to each other. This will ensure that your ad is seen as being relevant to the user query and the more relevant your ad, the higher it will rank in paid search results.
Correction Strategy
Build ad groups containing closely related keywords, focused on one specific topic.
 Why should we use related keywords in my campaigns?
Related keywords are usually semantically related to, or are a synonym of, or is a variation of, the primary keyword. They help digital marketers identify variations of phrases that searchers and prospects might be looking for. And, can assist in the performance of both organic & paid search campaigns, by increasing the relevancy quotient.
How many keywords to use for Google ads?
A good rule of the thumb is to use no more than 20 keywords per ad group.
8. Ad copy optimization
An optimized ad copy is a big way to signal to Google that your ad is relevant to the search query. All you need to do is to ensure that the target keyword is included in the ad copy. Having chosen closely related keywords, incorporating them in the ad copy will also be that much easier.
Correction Strategy
Ensure the copy is attention-grabbing and keyword-focused
How can you improve your Google Ad Copies?
A copy is not a jumble of flowery words. Here are a few pointers to help you
Use Keywords
Don't overcomplicate the language. Keep it clean.
Avoid ambitious claims
Keep it as direct as possible. You don't want to confuse the audience
Be empathetic
Adhere to the character limits
Address problem that your customers might have
9. Relevant Landing Page
Simply put, as long as your landing page is designed to solve the problems of the user, your likelihood to perform better in the ad auction is that much higher. On the other hand, if your landing page is not equipped to help users solve their issues, as revealed by their search queries, your performance in the ad auction is likely to be abysmal.
Correction Strategy
Analyse the relevance of the post-click page to the ad, and see if specific improvements can be made to match the intent of your audience.
What makes a good landing page? 
Landing pages are designed to help in the conversion journey. The answer to this question is meat for a standalone article. In summary, a good landing page should have a compelling story and a very clear "offer" or "pitch". It should be able to explain more about the offer in a precise and convincing manner; supported by text, graphic and precise CTAs.
10. Click-through rate
There is another reason why you would want to write effective ad copy. If the ad copy grabs the attention of the user and prompts them to click on the link, the signal Google gets is that your message is resonating with the users.
On the other hand, if your click-through rates or CTR is low, your ad isn't too appealing to the prospects. With a low CTR, your performance in the ad auction is also poor.
Correction Strategy
The key to a great CTR lies in effectively understanding the audience's pain points and to address them effectively. As long as you have met the unique needs of your prospects, a high serving of ads and subsequent clicks is a given. It is also important to figure out where in the buying funnel, the customers are. In the earlier stages of the buying funnel, they will be looking for information while in the latter stages the focus will be on buying. If you are dealing with low CTRs, it will be a worthwhile effort to evaluate the ad copy in the light of customer needs and the stage of the buying journey.
What is a good click-through rate?
While it is hard to compare CTRs across campaigns on account of the many variables involved, some data-backed industry averages seem to suggest that an average click-through rate on the AdWords search network is 2%.
11. Low ad rank
A low ad rank could be coming in the way of your winning the ad auction. An ad rank is a product of your bid and your ad quality score.
(Caption: Here's an example, where ads are approved but are rarely shown due to low quality score.)
How do you improve your ad rank?
To improve the ad rank, you need to, therefore improve your bid and/or your quality score. The ad quality score, in turn, comprises of three elements:
Ad relevance
Expected CTR
Landing page experience, each of which we have discussed in some detail.
Correction Strategy
Take a look at how your keywords, ads, and landing page relate to each other.
Whether you are a business owner or a digital marketer, remember that there is always a reason why your ads are not showing up. In our experience, it almost always has to do with the quality of keywords and ad copies. So, if at all you are wondering where to start, we'd start there!