A great ecommerce app can help your business make profits, but also rise to the top.
However, getting on the list of the great ecommerce apps is a massive accomplishment, what with the thousands of apps available in app stores.
Regardless of your business model, you need to ensure your ecommerce app has the attributes listed below in order to stand out.
It solves a need or problem
A great ecommerce app is well created and meets the needs of a large market of buyers like the Amazon app.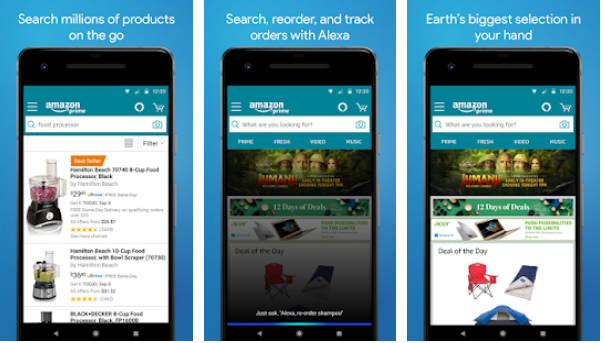 The fact that an app has a huge market that purchased it means it satisfies the needs of its users.
Fun and engaging
Enjoyability is one of the most important attributes in any app.
A great ecommerce app not only meets the inherent needs of the user or delivers on its primary function, but also entertains them.
Consider additional features like gamifying the experience with points or bonuses to unlock various rewards, or embedding social media.
Affordable
The more affordable the ecommerce app is, the more users are likely to download it.
You can try having a free version of your app like what Groupon offers, or couple the free with the full version.
There are free apps supported by ads or alternative sources of revenue, which makes paid apps potential turn-offs for customers.
Platform appropriate
Adobe (2014) reported that 55 percent of companies have a mobile-optimized website, mobile app, or both.
Your ecommerce app should be optimized for mobile users, leveraging on the natural qualities of mobile and smart devices.
When the app is functional and compatible for all devices and brands, it appeals to more users, thus the user experience is enjoyable.
Unique and pretty
A great ecommerce app can falter if it isn't well packaged, and branded fully in an enticing, yet colorful way.
Justuno (2017) says that '93 percent of consumers consider visual appearance to be the key deciding factor in a purchasing decision.'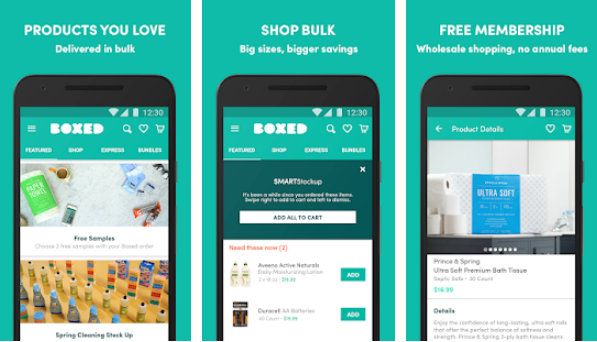 Your app needs to look appealing, amazing, and pleasing to look at; brand and package it in a recognizable but unique way.
A good example is Boxed, a wholesale retailer that delivers the household products and groceries you love in bulk. Their ecommerce app is easily recognizable as it matches the brand identity, plus its pretty.
The look and feel of the user interface differentiates your ecommerce app from that of another business even if you offer a similar service.
The interior layout needs to be fluid, clean – one that doesn't crash or freeze due to poor design.
A great ecommerce app doesn't fit too much information and content on the interface; neither does it have an overload of buttons.
Instead, the text is proper and readable, and the buttons are easy to click, and highly visible.
Easy to use
A great ecommerce app needs to be easy to install, access, and use like Shopify's app.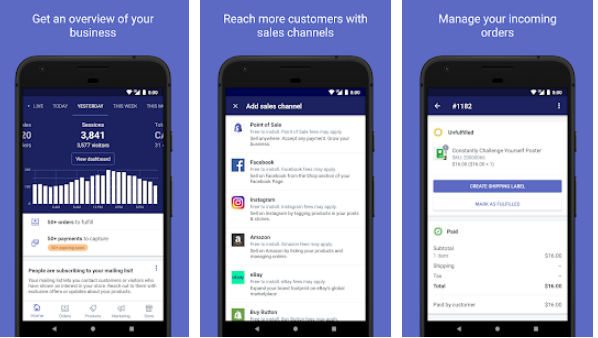 Sketch out how you'd like your app to function, and then spend time making it easier.
Users don't have the patience or time to learn how to navigate complex apps, when more intuitive versions are available.
Ensure users get what they want sooner and instantly.
Helpful customer support
Not all users of your app are tech savvy; there are those that will need help with downloads or usage of the app, or simply have a few questions pre/post-purchase.
Nothing kills an app faster than negative reviews.
A great app, therefore, comes with helpful customer support that gets you full answers to your questions in minutes or up to 48 hours at most.
Some companies with many users outsource this service, hiring others to do it for them at hourly rates.
If you don't have a large user base, or don't get tons of inquiries, you can either create an FAQ section where potential buyers can read or copy paste answers instead of retyping them, for similar queries.
Be sure to individualize responses with buyers' or users' names.
Excellent reviews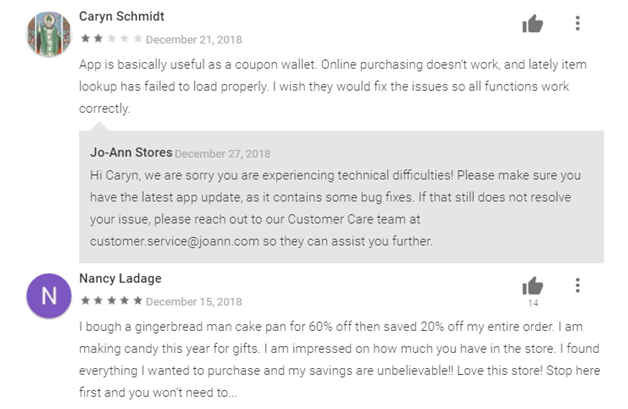 A great ecommerce app will have tons of great reviews from real users, all over the web! This helps potential buyers likely to purchase it.
At this point, most buyers are close to making the purchase, so positive reviews are helpful, compared to negative ones that can cause a death to your sales.
A good example is JOANN Fabric and Craft Stores, which responds to its customers' reviews, whether good or bad.
Avoid lying to customers, sending rude emails, or other negative responses as they can take screenshots, and defame you.
Isn't covered with ads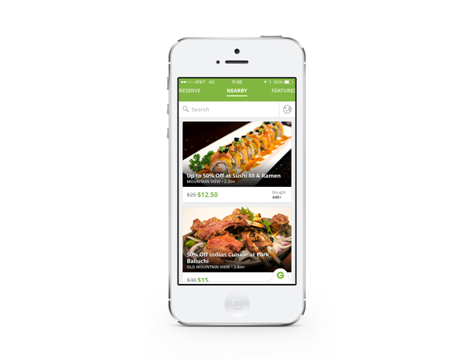 Advertisements are pretty annoying and a turn-off for buyers especially when overloaded on apps or even websites.
A great ecommerce app may or may not have ads, and when it does, they're not annoying or imposing but placed strategically on the bottom, side, or top.
Localization and Reachability
A great ecommerce app needs to be available for use anywhere, and at any time.
Localization and local-based information makes mobility practical and vivid, meaning the app is embedded to the users' context.
Security
Data transferred over the network needs to be encrypted through the carrier network, plus data storage needs to be secured.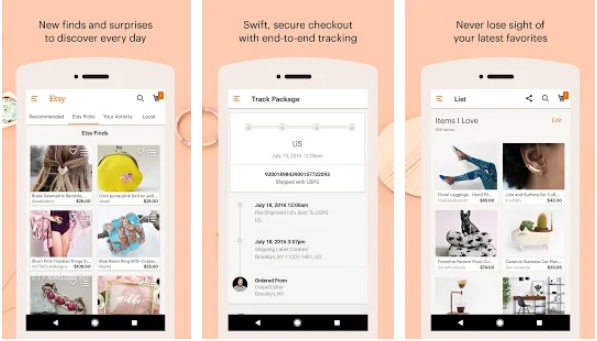 This is because some apps sync data with web-based, online apps.
Another facet of security is the data on the user's device itself, as no one wants snoopers accessing their sensitive data.
Etsy's app offers swift and secure checkout through its full suite of payment options, with end-to-end tracking.
Personalization
A great ecommerce app creates personalized content based on user behavior or individual usage.
It builds on all previous characteristics as this is where the app fits the personal needs of the user, and behaves like he wants it to.
This encompasses content, control over storage, sharing and usage of data for further actions.
Often marketing activities like push notifications fail to deliver due to lack of personalization. This is certainly not what an ecommerce business can afford. Retention and upselling can be easier than going for new customers all the time.
Bottom Line
While there are plenty of other attributes will set you on a good path forward with your ecommerce app, consider these the groundwork.
Work hard on it, test it thoroughly, and it could just be the next best ecommerce app to change the world.
---

– Sam Zaman
Sam Zaman loves to write on technology and related stuff. E-commerce, mobile and internet marketing equally drive her interest. Likes gardening and experimenting with new recipes. An avid reader and absolutely mad @bout donuts. She has been associated with Mofluid for a long time.
Twitter – @Mofluid
Facebook – @Mofluid