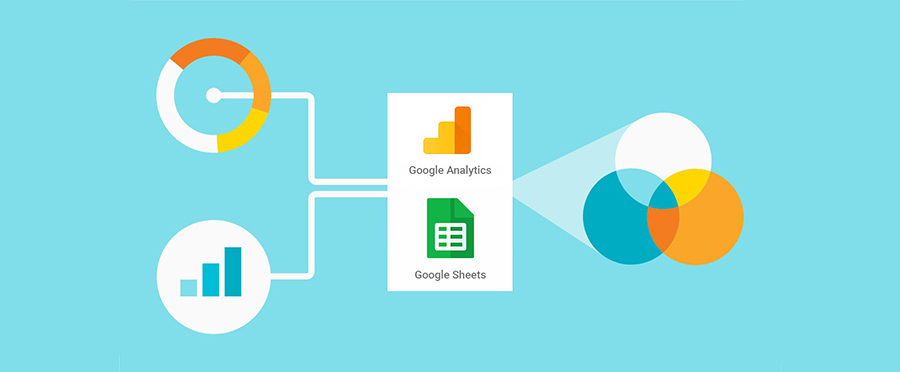 Do you generate a lot of reports for your clients or for your own business, using Google Analytics? Are most of these reports of repetitive nature? Do you manually type-in/copy-paste a lot of numbers from Google Analytics into your spreadsheets?
If any of the above is affirmative, then you must be looking for a solution/method through which you can automate or at-least reduce your repetitive daily efforts, thereby minimizing the chances of human errors as well.You must be looking for a solution/method through which you can automate or at-least reduce your repetitive daily efforts
You might be forced to feel, how do we know so much about your day to day business problems? Well, we are no prophets, who do prophesy about the fate of your business by just looking at its pulse, but we surely have helped a lot of businesses to take control of things, by looking at numbers and thus dictate the fate of their businesses.
So one fine day, you realize that the volume of the reports, required by your clients/business has reached to a level where you either needed extra dedicated resources or need to automate/simplify/reduce your work. Given that choice, you would be tempted to choose the latter and thus decide to integrate Google Analytics and Sheets, thereby automating a lot of reports that you generate on daily basis.
Our team at Unyscape, which caters to a number of different clients, with their businesses in different domains, has created a number of automated reports for its clients. For instance, a QSR (Quick Service Restaurant) business requires too much of a daily reporting. They are not to be blamed but the nature of their business, which keeps them (as well as, us) on toes. Food is an interesting business in those terms. There are a lot of factors like the weather; holidays; weekends; festivals; sports fixtures etc. which hold a strong correlation with the website traffic and sales numbers. Thus it becomes essential for them to monitor their numbers on a daily basis.
Well, that was too much of a motivation to integrate your Google Analytics and Sheets. Let's us look into the How's and Do's & Don'ts of the process.
Getting the first step right is very important, especially when it does not require any coding skills. To start with you need two of the most obvious things:-
Access to a Google Analytics account
A Google spreadsheet (it should be created using the same credentials as that of Google Analytics Account)
Step 1: Open the spreadsheet; select 'Get Add-ons' under the 'Add-ons' menu.

Step 2: A pop-up menu would appear. Look for the widget that says Google Analytics, click the button to add it and grant the necessary permissions to Google Analytics. If you can't see any such button, just type 'Google Analytics' in the search bar within the pop-up menu. The first result should do.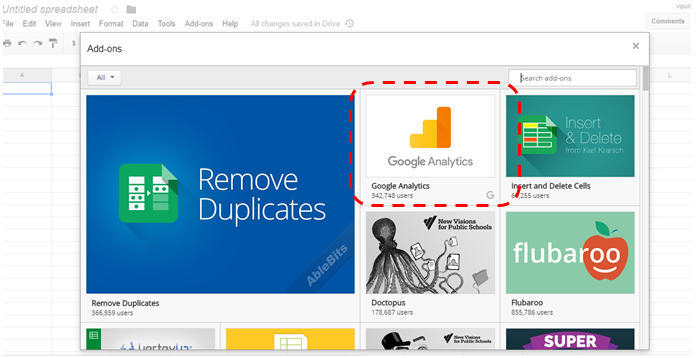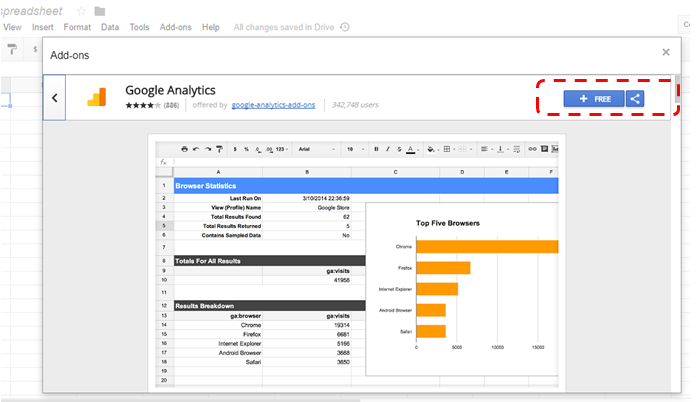 Well, that was all on integrating the Spreadsheets and Google Analytics.
Now we will show you how to make your first report [RE: automated report].
Step 1: Go to Add-ons Google Analytics Create Report to create your first report.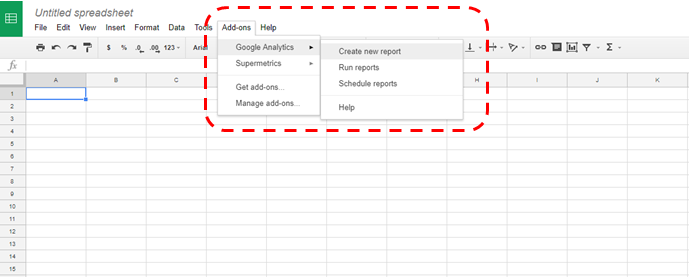 Step 2: In the left-hand side menu, specify the property and view that you would like to build your reports on.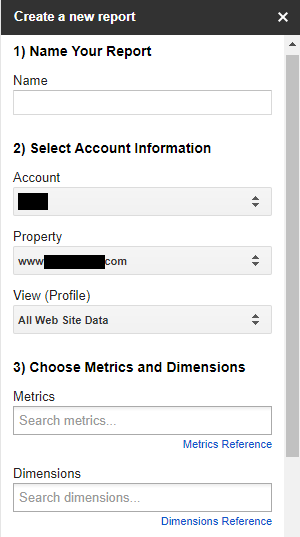 In this example, we would choose 'Users' as Metrics and 'User Type' as Dimensions.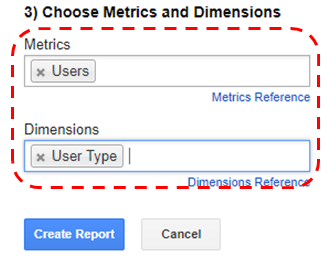 Step 3: IChoose the Metrics and Dimensions, which you would like to appear in your report. Click on 'Create Report' and now you would see a sheet added to your report which says Report configuration. This is the engine on which you can make several different reports which would eventually be created as different sheets of your spreadsheet.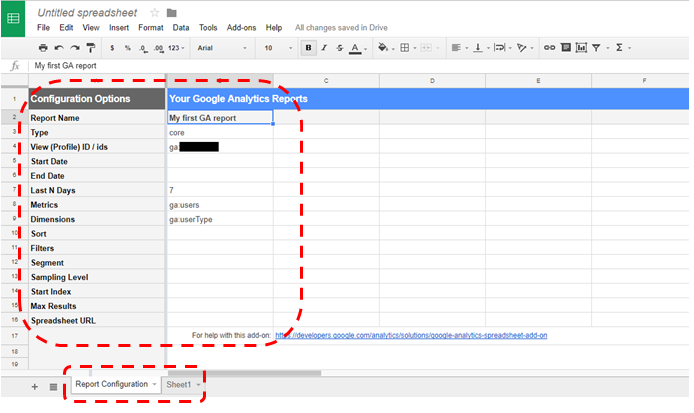 Notice the View Id. Generally, it's the same ID as that of Google Account.
You can choose to run your report for specific dates by either selecting the start and end dates through the in-build calendar (which opens once you enter a date and then double click on the box) or by entering the dates manually. (Be very careful about the date format while entering the dates manually.) Alternatively, if you are running this report on a daily basis and want it for the previous day, you can do so by using the formula =TODAY()-1 in both start and end dates. In fact you can do a lot of variations of dynamic nature, in the date fields, like selecting a day seven days before yesterday in Start Date and previous day as End Date etc. Basically, you just need to think of the period and you can get that dynamically available here.

Notice how specifically the metrics and dimensions have been written. Please note that these are case sensitive and to get the exact wording you can also use Google Query explorer (https://ga-dev-tools.appspot.com/query-explorer/). In-fact, query explorer will come in handy to fill in a lot of query parameters here.

For instance, you can type-in the name of segment name in the segment field and it will give you the gaid::XXXXXXXXX for that segment, which you can then copy/paste into your report or you can choose the name of the filter and so on.
Step 4: Once we are done setting the parameters we can now finally click on the 'Run reports' button (Add-ons Google Analytics Run reports) to run your first GA report.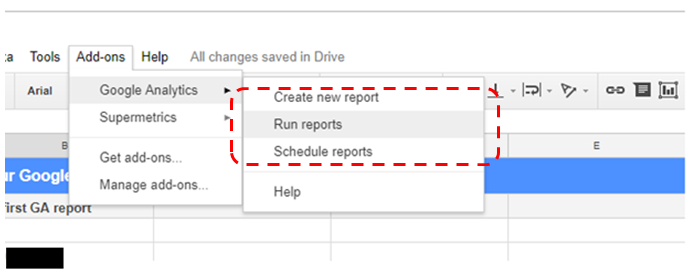 Step 5: On clicking 'Run reports' the desired report would be processed and will come up as a separate sheet with the same name as that of your report.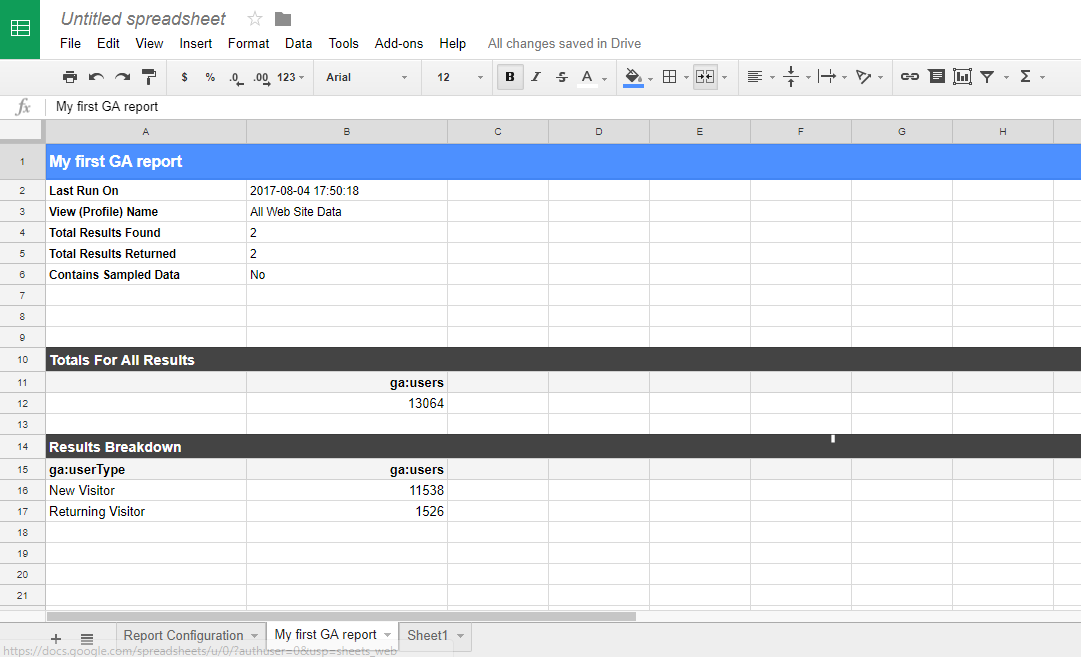 Step 6: You thought Step 5 must be the end. Well, the answer is yes and no. Yes, if you want to click on run reports on a daily basis and no if you want them to automatically run before you reach the office.
OK, so coming back to our report, we can schedule our report to run automatically on the period we want it to be. Just select the 'Schedule reports' option (Add-ons Google Analytics Schedule reports)
A pop-up will appear like this one:-

Tick on Checkbox and the scheduling options would open – up as shown below:-

Step 7: Well, sorry to break our promise, which we did, in step 6. As an efficient worker, you can always go one step further and add a functionality to get this report mailed automatically to the team/clients you want to send to. You can do so by going into the script editor (Tools Script editor). You can take help of Google resources and a lot of other resources available online to write the script for automating your report to the next level. We will discuss more on Script Editor in our upcoming article.
Step 8: Well, are you serious?  We are not that bad with our promises. Sit back and enjoy. Do let us know in case of any queries or problems you face while following the above steps and keep checking this space for more such informative articles.