Use of agile design and development principles go into developing state-of-the-art mobile apps that convert your business goals into realities. Our cross platform apps that are based on an understanding of user personas deliver engaging experiences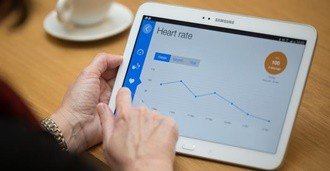 Home Health Monitoring
System to monitor 7 key health parameters with IOT at the core of the solution.
Volunteer Management System
System is currently being used by one of the largest political party.
Serviced Apartment Management
Company with 300 apartments, manage customer communication & manage tasks on this application.
IDEA CHANGES LIFE
If your plans don't include mobile, your plans are not finished. We ensure that your idea is implemented and turned into a lucrative mobile solution. Our mission is to deliver a world class mobile application development service that works in line with your business strategy and goals.
Our team of mobile app developers include highly-skilled analysts, UX experts and certified software engineers who are well-versed in building apps for all the major platforms whether its iOS, Android, or Windows Phone. Our agile, low-risk mobile development methodology has a proven success record and ensures rapid results and 100% visibility. The hallmarks of our mobile app development include:
Rapid results: In todays fast-paced, highly competitive business world, reducing time to market is often paramount. Our system emphasizes incremental development and rapid prototyping, which means you see results faster.
100% transparency: As a customer, you are always in control and fully updated on the project status, and your feedback is critical to the continuous improvement of the mobile solution. To make sure all parties are on the same page, our mobile app developers utilize daily status reports, conference/Skype calls, email updates, and onsite visits, if necessary.
Goal Specific Apps:Our team deploys mobile solutions that automate mission- critical business processes. We help start-ups become brand names and corporations launch new products and scale operations.
COMMERCIALIZE. GO LIVE.
Our experience says that developing an application is only 20% of the job done, while definite success of the application lies in promoting and making people use the application with constant updates. We aim to provide end-to-end solution for a client making sure the core goal of developing the application is fulfilled.
Through out the Go Live and commercialization process, we focus on:
User Experience: It is vital that the mobile app you are offering to your users is simple yet fast. All the hard work that goes into the architecture will mean nothing if the overall user experience is not interactive. To us design is an integral part that is engineered to make sure that your mobile solution has an engaging user interface experience.
Accessibility: We not only offer mobile app development services for different platforms, but we also cover cross platform needs of our clients. Whether your requirement is enterprise mobility, Mobile CRM or mCommerce , we offer best-in-class solutions.
Marketing simplified: Our apps lend themselves to ease of marketability with clear communication.
Marketability
Key inputs that aid marketability of the product are incorporated in the development stage itself
Agile Development
Our agile and iterative development process ensures risk mitigation
Usability
User reengineering design is an imperative part of our development process
Performance
Our apps are optimized for response time by ensuring minimal utilization of device resources
Reliability
Reliability is an important hallmark of our apps, as they are tested stringently pre-release
Scalability
Designed for scalability they can be extended both vertically and horizontally
Effective for projects where requirements are not likely to change significantly during the development process.
We work with clients in software specification documentation & time-effort estimation of such projects.
You can extend your existing team by hiring one or more then one staff from our team.
It requires high client involvement to supervise the augmented staff. It means that Project Management and Technical Leadership remain on the clients side.
We can manage high variety of projects and activities such as new product development, digital transformation, system maintenance, testing services and other long-term activities.
This relationship also cover product development & similar engagement.